2nd September, 2020, 3:59 PM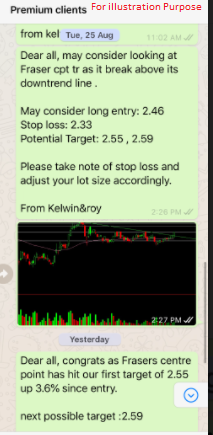 Chart Source : poemsview 2nd sept 2020
Frasers Cpt Tr is currently up after having a run up since its consolidation for the last two months. A first sign of turing up came when we saw Frasers Cpt Tr started to break above its mid-term downtrend line. It was just a week ago that we alerted our EXCLUSIVE CLIENTS of this trade set up when it was trading at $2.46 for them to prepare and plan.
Since then it has moved up over 7% since our entry and we are glad of the results.  Suburban malls looks better set for recovery as this is usually served by residences more than tourist. As tourist are not allowed for now, malls in orchard would suffer the most as lesser tourist visit. Mapletree com is also another counter for the recovery story.
As for now, Frasers Cpt Tr might see a push towards $2.72 which is closing the gap and after that a rest might be good. Will update more once again.
Want to be part of this EXCLUSIVE GROUP that were alerted of such a trade analysis?
Wait no more! CONTACT US NOW to see how you can be part of this group to receive value added service sent straight to your handphone.
Yours
Humbly
Kelwin&Roy