16th January, 2020, 5:41 PM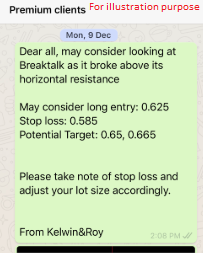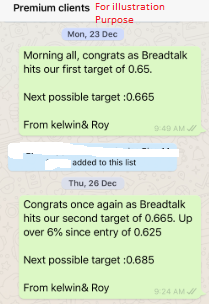 Chart Source: poemsview 16th Jan 2020
Breadtalk caught our attention back in November 2019 when there was a huge surge in volume. We alerted our EXCLUSIVE CLIENTS then and glad breadtalk went according to plan.
Then in December 2019 once again we saw breadtalk gaining some momentum and alerted our EXCLUSIVE CLIENTS at $0.625. Fast forward a month later and we see that breadtalk has performed  well up  11% and hitting three of our targets.
It has stayed above of target of 0.685 at close and if it manages to stay above this level we might see the next possible target to 0.725 another 5% upside.
Want to be informed of future development of breadtalk?
Want to be part of this EXCLUSIVE GROUP that were alerted of such a trade analysis?
Wait no more! CONTACT US NOW to see how you can be part of this group to receive value added service sent straight to your handphone.
Yours
Humbly
Kelwin&Roy