26th June, 2019, 5:55 PM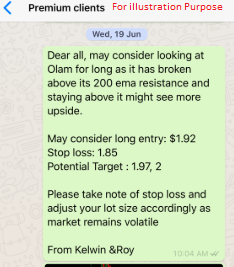 Chart Source: Poemsview 26th June 2019
Olam has been announcing a slew of share buy back since the start of june. It has slowly seen its price increase since then and that has caught our attention. Olam finally managed to cross its 200ema which we feel is a positive sign coupled with a share buy back.
Of course, our EXCLUSIVE CLIENTS were alerted on this last Wednesday as we share our analysis. We're glad it hit our $2 target which is 4%  upside since our entry. Olam is currently facing some resistance, as $2 is a round number resistance it might take awhile to break it. A break above this might see it move higher to $2.07
Want such Alerts sent straight to your handphone?
CLICK HERE to see how you can learn how to plan a sound and actionable trade plan and to be part of this EXCLUSIVE COMMUNITY to enjoy such value added services.
Yours
Humbly
Kelwin&Roy