19th February, 2019, 10:29 PM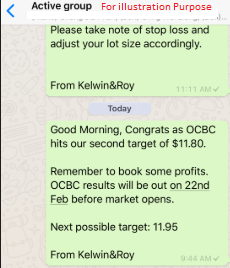 Chart Source : Poemsview 19th Feb 2019
OCBC continued it move up today meeting our second target of $11.80 as blogged last night. What was interesting is that at around that point ($11.80) OCBC started showing weakness. The resistance at $11.80 proved strong and OCBC couldn't break above that and succumb to profit taking.
Once again we're glad that we alerted our EXCLUSIVE CLIENTS to also take some profit off the table since our second target has been met. Our EXCLUSIVE CLIENTS were alerted when OCBC was trading at $11.60 just LAST WEEK with an impending breakout and we're glad our second target was met.
Reminder that OCBC results will be coming out very soon. Will this retracement be a chance for entry?
It is important to manage your trade and let your winning trade run while protecting the downside. Ever wonder how to come up with a sound and actionable trade plan?
CLICK HERE to see how you can learn how to plan a sound and actionable trade plan and to be part of this EXCLUSIVE COMMUNITY to enjoy such value added services.
Yours
Humbly
Kelwin&Roy