18th January, 2021, 6:50 PM
Chart Source: Poemsview 18th Jan 2021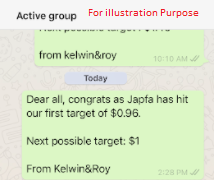 Japfa saw some action creeping in after lunch break and at around 3pm some heavy buying started appearing. We're glad we didn't need to chase or do much as our EXCLUSIVE CLIENTS were alerted last Tuesday when we saw a break of the horizontal resistance as shown above in the message.
So we were just waiting for it to hit our first target right at the previous high of $0.96. A nice hit and it continued to push on breaking this resistance. Volume also started and its higher than the past few days which is a positive sign for us. Its closing is also above the resistance of $0.96 another positive sign. Will Japfa be able to challenge the all time high of $1.05? This might be on the cards with the healthy volume but we're aiming for $1 first as there might be some profit taking around that area. Fingers crossed!
Want to cut through the noise and get such trade alerts straight to your handphone?
Then be our EXCLUSIVE CLIENT and find out how to be included in our trading community right now!
See you onboard soon!
Sign up on our mailing list to receive the latest news and blog updates too!
Yours
Humbly
Kelwin&Roy