19th January, 2021, 7:15 AM
Chart Source: Poemsview 19th Jan 2021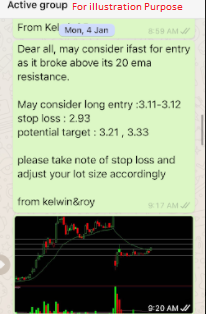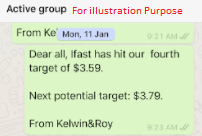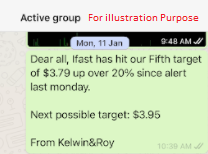 It's a very good start for IFast as it has seen its price rocketed over 50% since its opening price of $3.06 and a closing of $4.67 as of 17th Jan. Unbelievable and rare to find in the Singapore stock market. We're just glad that we managed to catch this stock from the start of this year and starting the year on the right foot.
Many have asked what's the outlook for IFast, how much further can it go? Can still enter? We'll try to share as much so hopefully you'll have a better perspective on how we look at the markets.
For a start, we'll be honest and admit that we didn't expect IFast to run that much and that fast. That I think most people wouldn't be able to tell. But what we can share if how we can go about tackling such trades. Firstly, a look at the company's fundaments to see if such a stock might be worth trading or even holding. IFast had an impressive track record so far and is a growing company with a growing asset under its arm. Something which we mentioned in our blog post. 
Secondly as we enter a trade and as it hits our target, one can either take profit or start placing a stop loss at the entry point once the stock has hit our second target. If it has moved further set it to the second target as ur trailing stop loss. One might also consider using the 5ema as a guide when a stock starts displaying a powerful uptrend like IFast. It is an illusion to think that one can always take profit at the top. Sorry to burst your bubble, even after more than 10 years of trading we still can't take profit at the top of the top. =)
Thirdly, decide if you're trading or investing. If you can't decide why you're entering the trade or the answer is I don't know or I everything then you're probably going to end up with very mixed results. Trading and investing are two very different things and mixing it up usually will result in very mixed results. When you're suppose to hold you sell, when you're suppose to sell you hold. So make up your mind, be clear in your actions.
We hope we shed some light for trading such stock . From the chart, we can see that IFast touched the 5ema and started having some rebound. If it closes below the 5ema for more than two -three days then it might signal more downside if not continue to enjoy the trend.
Want to cut through the noise and get such trade alerts sent straight to your handphone? In addition, have such a detailed follow up?
Then be our EXCLUSIVE CLIENT and find out how you can be included in our trading community.
See you onboard soon!
Yours
Humbly