25th July, 2019, 5:56 PM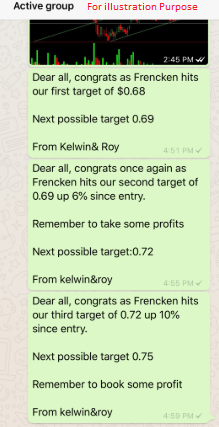 Chart Source: Poemsview 25th July 2019
Frencken had a late day breakout and broke above its previous resistance of $0.68 closing at $0.715!
We're glad that we Alerted our EXCLUSIVE CLIENTS just on tuesday 23rd July about the observation we saw. To our delight frencken took off and shot up to our THIRD profit target of $0.72. A very nice movement of more than 10% since entry of $0.65. Taking some profit might be a wise thing as the stock had a strong run and nothing wrong with locking in some profit as we are always on the cautious side. Never wrong to be careful especially in such a market.
As Frencken its at its all time high, we're taking it step and step and not get ahead of ourselves. $0.75 might be the next resistance then $0.78. Take note that its results earning might be around 10 Aug. So pay attention.
Want such Alerts sent straight to your handphone?
CLICK HERE to see how you can learn how to plan a sound and actionable trade plan and to be part of this EXCLUSIVE COMMUNITY to enjoy such value added services.
Yours
Humbly
Kelwin&Roy