26th February, 2019, 10:09 PM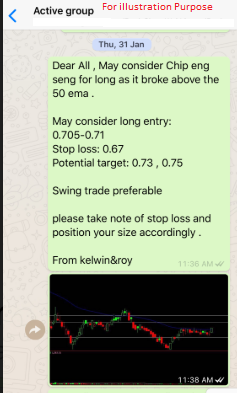 Chart Source: Poemsview 26th Feb 2019
Chip Eng Seng is a construction and property in Singapore saw a strong earnings for Q4 of 2018. With the strong earnings came a strong rise in price over the last two days.
Once again using a simple indicator like the 50 exponential moving average we managed to catch Chip Eng Seng before it ran. Chip Eng Seng finally broke above its 50ema on end jan and continued  to tugged along that support line before the big  move came.
As with Capitland from our previous post, using  a simple indicator can help strengthen one's analysis.
Also, knowing the characteristics of a stock is also important. As in this case, Chip Eng Seng usually has a tendency to take a while before  a move comes hence we alerted our EXCLUSIVE CLIENTS on it being a swing trade. True enough Chip Eng Seng started to move slow and steadily up.
A nice 7% upside has been seen since our entry at $0.705. $0.75 which is our second target is currently the resistance point too. Clearing that and staying above that might see it challenge $0.775.
Want to know how to use a simple indicator like the moving average to strengthen your analysis?
Stay tune as we firm up the details for our next workshop.
Want to receive such analysis to straight to your handphone?
CLICK HERE to see how you can be part of this EXCLUSIVE COMMUNITY to enjoy such value added services.
Yours
Humbly
Kelwin&Roy