13th November, 2020, 7:15 AM
The last few days have been brutal for tech stocks as news of a potential vaccine by pfizer proves  90% effectiveness. There are still many hurdles surrounding it like the vaccine has to be stored at temperatures matching an Antarctic winter. But knowing mankind, we will overcome adversity! We just need time! So with news of the vaccine, market started to climb and we saw a flow into cyclical sectors ike your banks, airlines , automakers. Tech stocks were heavily sold as the stay home stocks like zoom , netflix all got sold down. Could this be an opportunity  for an entry? We'll look at US tech stocks another day as our focus for today shall be on the HK tech stocks.
Closer to home, HK tech stocks took a bigger hit as China proposes antitrust law, clamping down on the Big Tech stocks. This was a double whammy for the HK tech as the vaccine news was the first blow and next came the antitrust law. What was worse for Alibaba was that it's IPO Ant Group got suspended the week before. What a week for Jack Ma! Talk about rough day eh!
We'll look at Alibaba and Tencent in this post and Xiaomi and Meituan will be on our Facebook post.
ALIBABA ( 9988. HK)
Alibaba's Singles Day sales top US$74 billion but the anti-monopoly rules over overshadowed these amazing sales figures. Alibaba is the world's largest retail commerce business in terms of Gross Merchandise value (GMV) with names like TMall, Lazada, taobao under its belt .Its business comprises of E-com, cloud computing, digital media and entertainment, innovation and initiatives. Its total revenue has been growing consistently for the last 10 years  and cash flow from operations has also been growing consistently.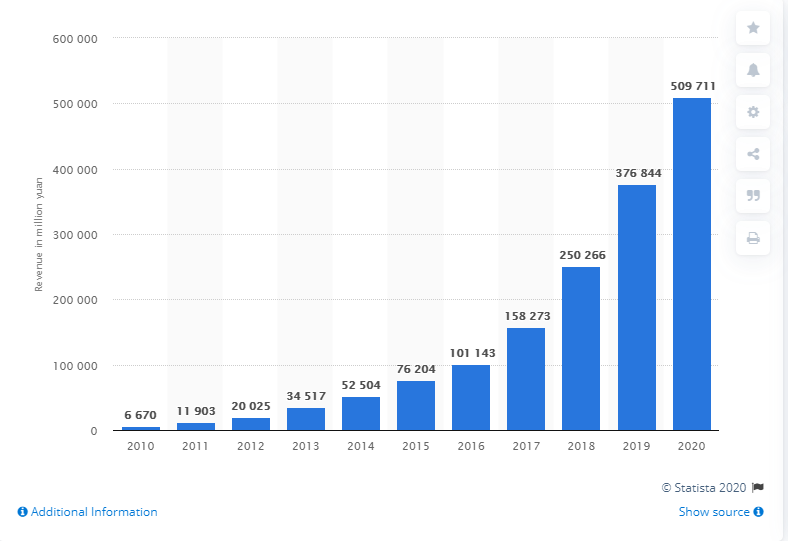 Source: Statista
In terms of Economic moat Alibaba has  a wide one. It has brand monopoly China's market leader in e-com capturing around 55% of market share of all online retail sale! The second closest would be JD.com at 16% !
Now lets see the chart and see what levels we are looking at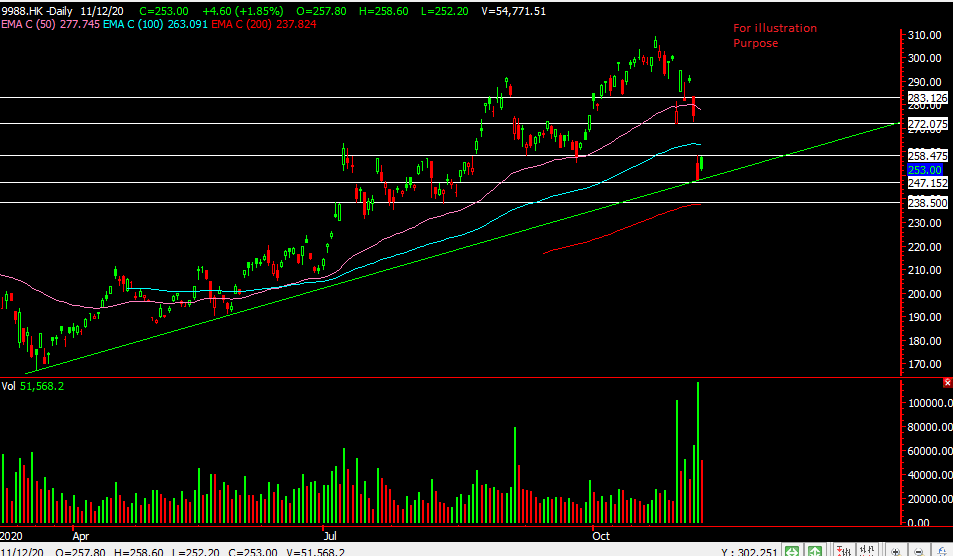 Chart Source: Poemsview 13th Nov 2020
Alibaba has seen its stock price fell about  20% from a high of $309.40 to a low $248.4. This is a healthy correction but can it go down further ? Of course it can! That is why it is important to always scale in to the market. We can see immediate support at the uptrend line at around HKD$247. The next support might be at the 200ema at around $238. Immediate resistance is at the gap of around $258.80. If it can cover that we might see it move to $272.
What's our strategy for this? So by now you would have heard time in the market is more important than timing the market preached by many including us! We would start scaling in at different points and in batches. Never enter your investment at one shot as this leaves you with zero ammo if the prices falls and who knows if it will fall further right? So if you have 10k to invest into Alibaba, you might want to split it into 3-4 parts like $2500 for each batch and pick up some shares whenever it hits or is near the support. Indicators are also starting to go to the oversold zone but of course oversold can remain oversold. This is just one sign to look at. We have also drawn the potential resistance but if you're investing for the longer run, these resistance would not be that useful as you are in for the long haul like years!
TENCENT (700. HK)
Tencent is the largest video games publisher in the world. It has 4 big components : value added services (social media &online gaming), online advertising , fintec &business services.
WeChat/weixn is used by about 70% of the people in China. It is like our whatsapp just that its integrated with mobile payment wechat pay and many more.
It is the number one video game publisher in the world by revenue having major stakes in some the world's popular titles like LoL, fortnite, PUBG Mobile, Call of Duty online, Clash of clans and many more.
It is the number one video, news , music and online content library and companies run ads on these platforms to reach out to their audience.
It has also fintech arm and online payment Tenpay competing with Ant Group. It is second to Ant Group.
It has a brand monopoly therefore with the points above Tencent has a wide economic moat.
Its revenue has been growing for the last  5 years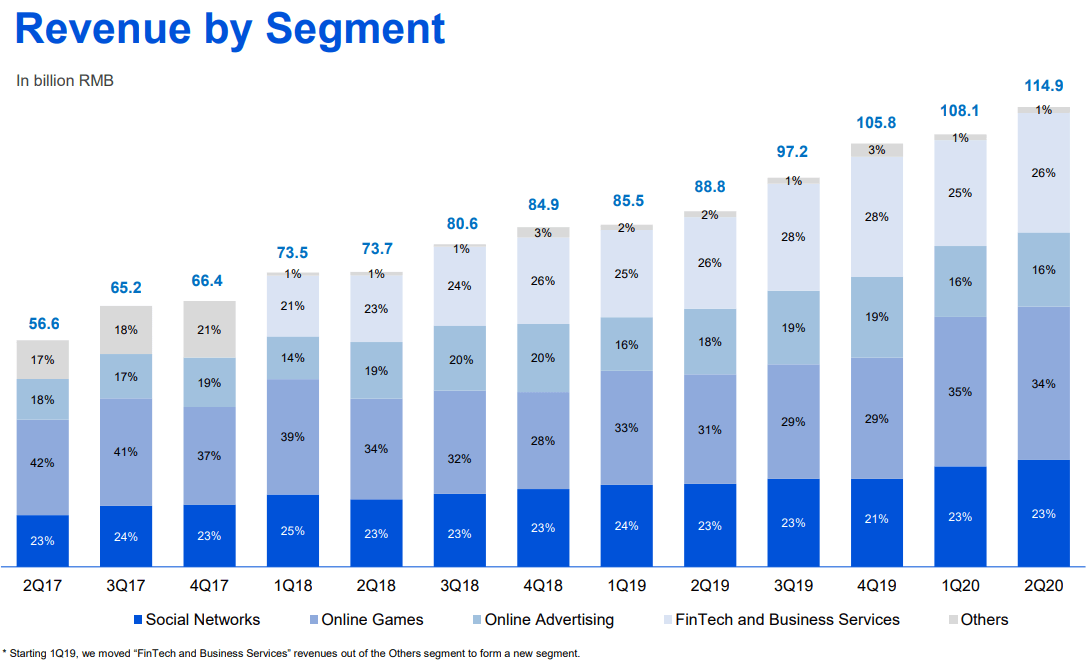 Souce: Seeking Alpha
Its net income has also been growing over the last 10 years and have a healthy cash flow from its operations too
Source : Statista 2020
Let's take a look at the chart of tencent: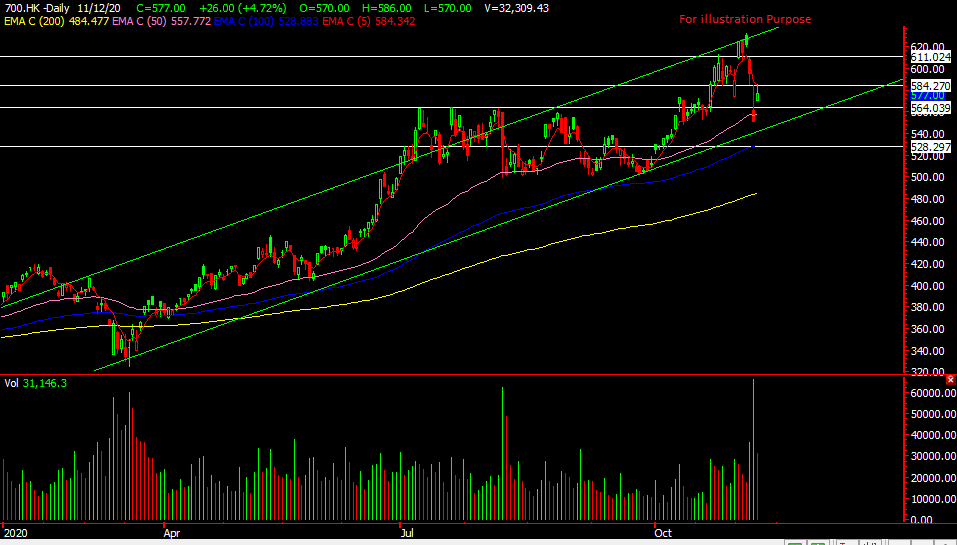 Chart Source: Poemsview 13th Nov 2020
Tencent fell about 11% from its peak .Price is coming close to the mid term uptrend line of around HK$550, next support might be $528 (100ema) then $484(200ema)  should this antitrust law drags on. But who knows right? As from above, the strategy is to scale in by batches at the/near support levels. Resistance at $584 then $611.
Concluding Thoughts 
With the antitrust regulation does put a dampen on these companies. In the longer run , their profit margins might be hit  but with the brightest and smartest working in these sector i'm sure they'll find other ways to increase profits. With tech companies growing so big at such an incredible speed it is also prudent for China to reign in its over rule these companies and not let them go overboard. China also wants to be number 1 in tech so they probably won't want to kill off their homegrown tech companies.
In the grander scheme of things, this might be a road bump which companies faces from time to time and eventually grow stronger. Don't forget, tencent was hit by increased regulation in 2018 and after a year its stock price started to pick up and it has doubled ever since then. With vaccine coming out, some might think that these tech companies might not be that relevant anymore but we beg to differ and think that these companies are quite integral to our lives now. ALWAYS look at the big picture when investing and remember time in the market rather than timing the market. And any form of investments carries risk!
We'll cover Xiaomi and Meituan dianping in our facebook post so head on over there to check it out.
Any questions? Feel Free to drop us a message!
Yours
Humbly
Kelwin&Roy