12th April, 2021, 5:02 PM
Chart Source: Poemsview 12th April 2021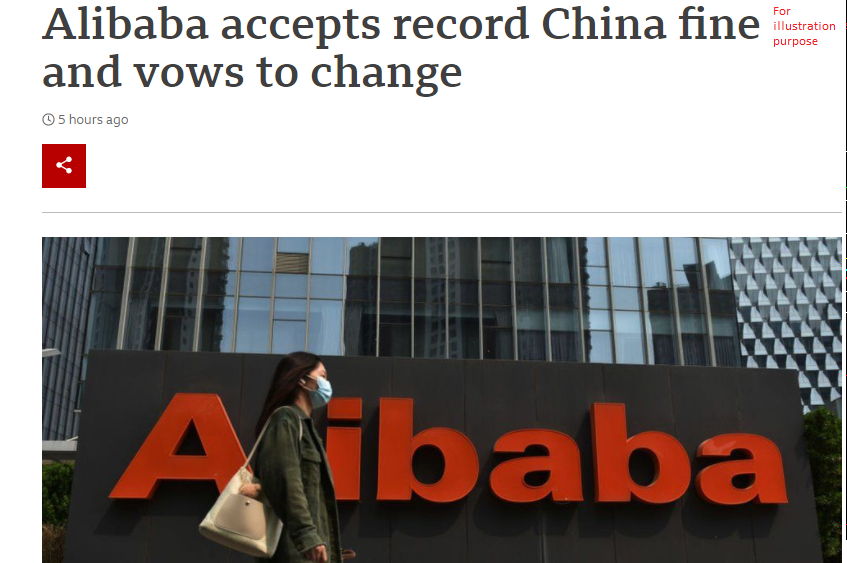 Image source: www.bbc.com
Alibaba has been fined 18.2b yuan last Saturday one of the biggest fine ever in the antitrust penalties globally. This fine amounts to about 4% of the company's 2019 domestic revenue.
Alibaba said it accepted the penalty and will ensure its compliance with determination. "We're happy to get the matter behind us, but the tendency is that regulators will be keen to look at some of the areas where you might have unfair competition," he told an investor call on Monday. The company added that it was not aware of any further anti-monopoly investigations by Chinese regulators, though it signalled that Alibaba and its competitors would remain under review in China over mergers and acquisitions.
This fine signals a new era after years of laissez-faire approach as the Chinese govt clamps down on such practices.
So what will the future hold for Alibaba? Well, now that the penalty is determined, the market uncertainty about Alibaba will be reduced and analyst are positive about this move. With JP Morgan restated its overweight with a price target of $320. Hopefully with this market will get getting interested about Alibaba again as we witnessed an upside despite the fine. But stocks like Tencent, meituan fell as they are vulnerable to Chian's regulatory policy.
 From a technical analysis perspective, Alibaba has been in a side way consolidation for the one month plus. The support is around $217 and $208 while the immediate resistance at $239 area. A break above that might see it move to the downtrend line of around $249 then the next resistance of $265. We're bullish on Alibaba's prospects. 
What's your take on Alibaba? Drop us a line as we would like to know your thoughts.
Yours
Humbly
Kelwin&Roy