15th September, 2016, 12:37 PM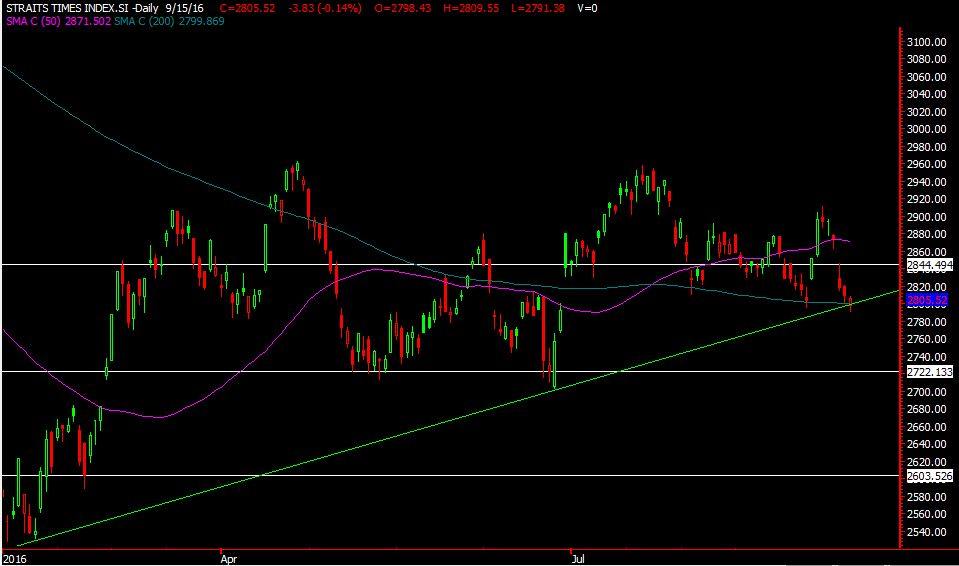 Its 3 more working days to the start of the upcoming fed meeting on 20th sep and we have seen the STI following our plan and dropping to the 200ma which is also the uptrend line. Hope you guys enjoyed the ride down together with DBS and SGX. =)
Whats next? As the meeting looms, we would prefer to go light and adopt a wait and see approach. Remember even after the meeting it doesn't mean that markets will be stable too. If there is no hike and market rally would that be good? Does the underlying current means that the US economy is not that good? Is that something to cheer about??
If there is a hike would it be good for the market? It might have a short term pullback then start to move up?
Lets not get ahead of ourselves. We would prefer to see the chart and look for clues in it.
If STI were to break that uptrend line we might see it head towards 2722 area. We won't be going too heavy and market is still in an overall sideway trend. So a rebound could be in place after that.
Yours
Humbly