11th February, 2019, 5:19 PM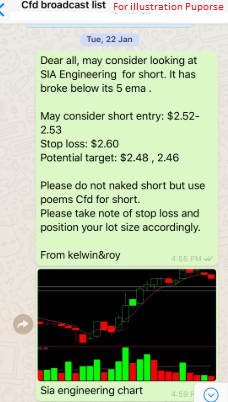 Chart Source: Poemsview 11th Feb 2019
SIA engineering reported a poorer set of results which didn't quite meet expectations and the stock took a beating since opening till closing at $2.39. What a day for SIA Engineering. More of its results can be read HERE.
Were there cracks and warning signs before the fall? Just over a week ago when SIA Engineering was sitting on its $2.50 support we issued an alert for our readers to be careful. That support didn't hold and it a first warning sign.
Our EXCLUSIVE CLIENTS were also alerted of this trade analysis back in Jan where they could Plan, Prepare and Proceed with ease.
Since our entry of $2.53 SIA Engineering has been steadily declining and has reached a few of our targets with $2.37 being the third. A nice 6% downside can be seen in this analysis.
Want to receive such analysis to straight to your handphone?
Want to be our EXCLUSIVE CLIENTS to receive such value added services?
CLICK HERE to see how you can be part of this EXCLUSIVE COMMUNITY to enjoy such value added services.
Yours
Humbly
Kelwin&Roy