3rd November, 2019, 7:38 PM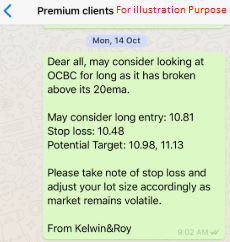 Chart Source: Poemsview 3rd Nov 2019
OCBC bank saw a nice move up over the last week as market sentiments started to pick up.
As OCBC results are coming out this Tuesday ( 5th Nov) before market opens we usually like to take a cautious approach towards results. It has hit our first target of $10.98 which we alerted our EXCLUSIVE CLIENTS when it was trading at $10.81 Taking some profits before results are out would be a approach we take and not be left wondering and hoping for the best.
The net interest margin might take a squeeze as lower interest rates starts to lower margins as seen from UOB results. Also, we're looking towards their forward statement and seeing how they will navigate through the tough times. The next resistance we're looking at is $11.13 which is also the 200ema.
Want to be part of this EXCLUSIVE GROUP that were alerted of such a trade analysis?
Wait no more! CONTACT US NOW to see how you can be part of this group to receive value added service sent straight to your handphone.
Yours
Humbly
Kelwin&Roy