18th March, 2019, 12:07 PM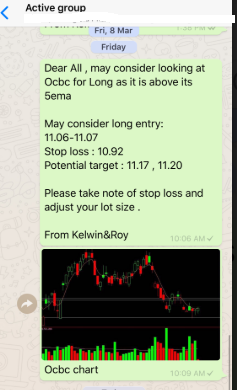 Chart Source : Poemsview 18th March 2019
OCBC started the Monday morning with a nice upside following Dow Jones lead on friday night. Singapore banks were generally up with OCBC taking the lead up close to 1% before lunch time.
A break above the 5ema at $11.06 for OCBC gave a clue and our EXCLUSIVE CLIENTS were alerted on it.  Just within a day and two of our targets were met with $11.20 being the latest target to be hit.
OCBC might see more upside if it can hold above the 20ema which is at $11.20. The next possible upside might be $11.29.
Want to know how to use a simple indicator like the moving average to strengthen your analysis?
CLICK HERE to see how you can learn how to plan a sound and actionable trade plan using a simple indicator like the moving average and to be part of this EXCLUSIVE COMMUNITY to enjoy such value added services.
Yours
Humbly
Kelwin&Roy