5th April, 2021, 6:18 PM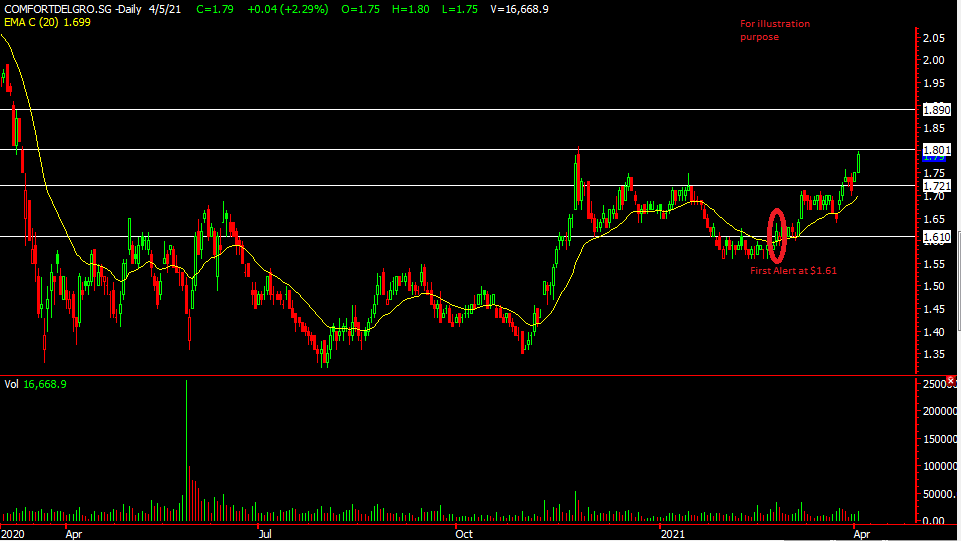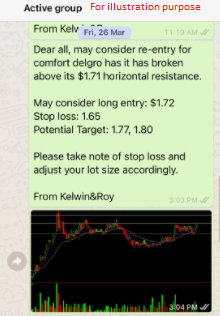 Chart Source: Poemsview 5th April 2021
🚘Comfort Delgro has been steadily moving up ever since it crossed its 20ema. With vaccine roll out in UK, Singapore and Australia and more people going back to office the demand for taxis should see an uptick. With Singapore now allowing more workers to return to office and no longer have work from home as the default, this would mean more travel to the office and with that a pick up in transportation rides.
It was back in Feb when Comfort Delgro broke above the 20ema catching our attention and they say the rest is history. A nice 10% upside can be seen when Comfort hits $1.80.🚀🚀
In fact we spotted another re-entry as it consolidated around the $1.70 level and broke out! A nice 5% upside seen just within a week since our alert to our EXCLUSIVE CLIENTS at $1.72.  Interest is building up as we can see volume picking up for this counter. A push towards the $1.89 level could be on the cards as the recovery theme continues to be in play.
Want to be the First to receive our trade alert sent straight to your handphone before the stock moves?
Then be our EXCLUSIVE CLIENT and find out how much value is waiting for you!👍
See you onboard soon!
Yours
Humbly
Kelwin&Roy