9th October, 2020, 7:00 AM
Image: CapitaR China Tr presentation slides
Capitaland Retail China Trust or CapitaR China Tr for short is the first and largest China-focused Reit listed in Singapore. They have recently announced an expansion of investment strategy which is turning some heads.
Just a snapshot of what they'll be doing, they'll be looking into its investment strategy beyond the retail sector to include office and industrial assets (including business parks, logistics facilities, data centres and integrated developments.) With key focus on long term growth, diversification, resilience, sustainability and returns.
This also shifts its focus from a pure retail play to a more diversified China growth story and might be more attractive for investors, given retail is on a decline and online shopping is gaining strong momentum.
Furthermore data centre are a unique asset and moving into this class of asset is in the right step.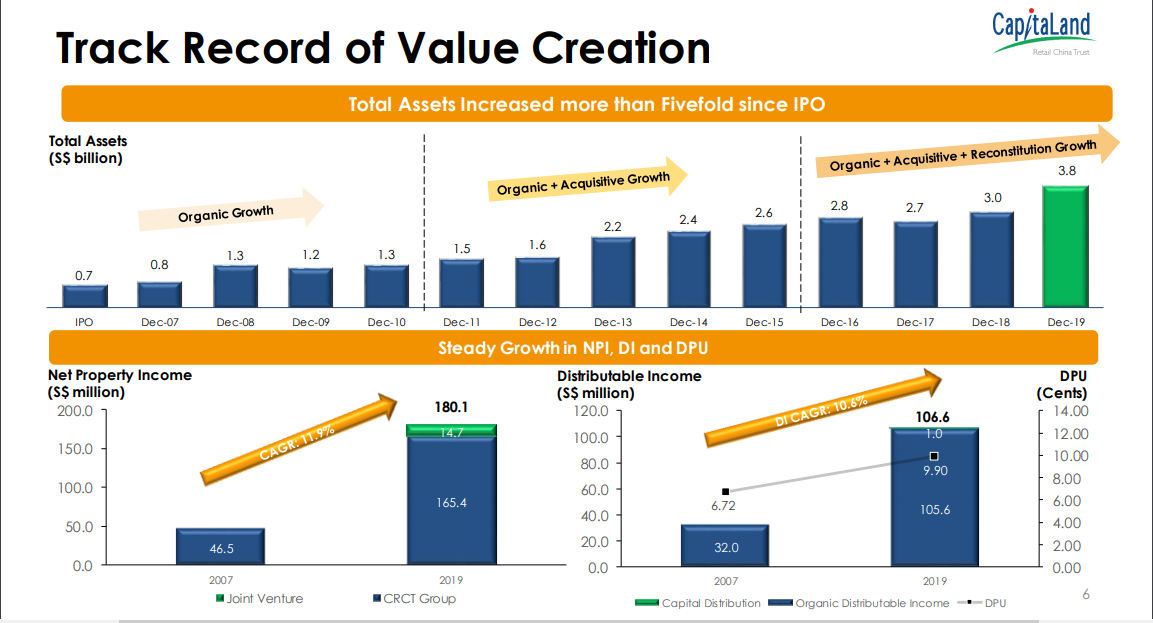 An insert from CapitaR China Tr's presentation.
More of the presentation slides can be viewed HERE
Let's take a look at the chart and look at it from a technical analysis perspective.
Chart Source: Poemsview 9th Oct 2020
CapitaR China Tr has actually broken out of its long term downtrend line with one of the biggest volume for the year. It has also broken above its horizontal resistance of $1.19. These are positive technical points for an entry.
It has been consolidating for about two months and so some upside might be expected. We have drawn the resistance levels and a good support should be around $1.10
Our concluding thoughts :
1. Its operating metrics turned positive in Aug and with recovery in sight, we might see more upside
2. Potential addressable pipeline close to $33bn  (from its sponsor CapitaLand)
3. Dividend yield of about 6% which is very decent in today's market
4. Worth a look for your investment/dividend portfolio with a structured approach in scaling in.
Do contact us if you'll like to know more!
Yours
Humbly
Kelwin&roy