7th January, 2019, 9:33 PM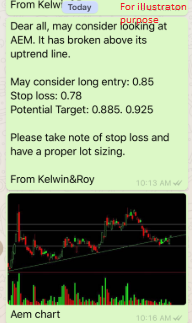 Chart Source: Poemsview 7th Jan 2019
AEM one of Singapore's electronic stock was off to a good start to the week. It moved up over 4% since our trade alert to our EXCLUSIVE CLIENTS at $0.85
From the morning AEM showed good signs of moving up by regaining its uptrend line support which prompted us to alert our clients.
The strength continued through the day which allowed AEM to hit our first  target of $0.885 and even went to a high of $0.895. A very nice run for a day.
If AEM continues to hold above $0.885 we might see our second target $0.925 being realized. Lets continue to watch.
Want to be informed of such trade analysis?
Don't wait and CLICK HERE to see how you can join this community and all the exciting perks of being a Client of Kelwin&Roy
Yours
Humbly
Kelwin&Roy