22nd October, 2020, 6:56 AM
Image source: thejarkatapost
It wasn't a good day out for medical stocks yesterday as they all took a nosedive.
Familiar names like medtecs, UG healthcare, riverstone, Top Glove all took a beating of over 5%
What caused this sell down? One possibility could be due to this  news.  China giving 60k people with covid-19 vaccines will no ill effect.  How successful will this be? Only time will tell.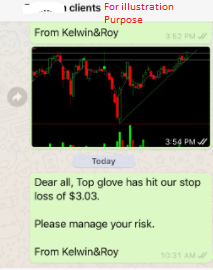 With the selling, of course we'll be affected. We did well with UG healthcare and Riverstone but unfortunately Top Glove didn't quite go the way we wanted it to. And here's what we did. Sending a message to our clients to remind them that our Stop Loss in Top Glove has been hit!
No need to shy away from it, its normal to have stop loss but if you know of anyone who doesn't CONTACT US, we want to know that person too. =) So a reminder was sent so that our  clients know it's time to cut loss.
It is important not only to have a good section of stocks but also to have someone reminding you when it's time to get out! As traders we all know how crucial it is to cut your losses and  not be in denial.
Want a remisier who's looking out for you? Reminding you when it's time to cut loss?
Contact Us to find out how you can receive such awesome service.
Yours
Humbly
Kelwin&Roy