16th January, 2019, 10:21 PM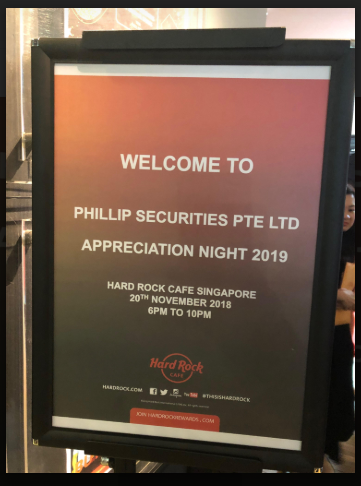 It was our annual appreciation night where our trading representatives gathered to network and let our hair down.
It was also a time where Phillip Securities recognizes the hard work put in by the various trading reps.
We are honoured to have clinched the Top10 Trading Rep(CFD&Equities) for the third year running.
It was a joy to see our hard work paying off and we give thanks and glory to THE MAN up above!
We also like to take time to thank all our clients who have stood by us through the test of time. Without your support we wouldn't have achieved this.
Our heartfelt gratitude for all the support and blessings and looking forward to soar with everyone this year. Though the markets might be tough we believe with the right attitude and mindset we'll be able to overcome the challenges together!
To end this, here's a quote from one of our favourite books :
Two are better than one,
    because they have a good return for their labor:
 If either of them falls down,
    one can help the other up.
But pity anyone who falls
    and has no one to help them up.
So let's work together to achieve greater results.
Yours
Humbly
Kelwin&Roy