15th July, 2021, 7:43 PM
Chart Source: Poemsview 15th July 2021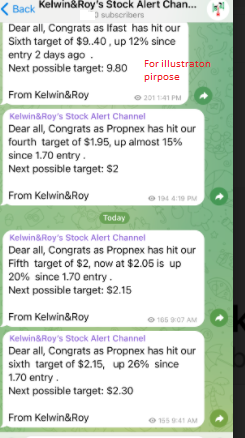 Another stock that had a spectacular run today was Propnex up 10% since yesterday's close. From our previous post, profit taking did come in as mentioned before it staged a rebound. In total, we saw PropNex up 26% since our alert just 10 days ago! 🤑🤑 Its a very nice move up if you ask us! 🤩
Lets take a look at the chart and see where is it at now. It has hit our targets and have updated with new targets to our clients. The upper channel resistance does looks like a challenge and profit taking might come in if it can't break that resistance. We're looking at $2.30 next and would see if momentum holds before deciding on our next potential target. What a week it has been! A nice pullback to the middle channel or around the 5ema might present some short term opportunity.
What a week  it has been and we hope that the week has been good for you!
If you need extra help in your trading, you know who to look for! We're just one message away!
Want to be alerted earlier and not miss out on our next trade alert? Be our EXCLUSIVE CLIENT  and find out how you can be included in our next alert. Or simply click the whatsapp logo at the bottom of the page to drop us a message.
Yours
Humbly
Kelwin&Roy