31st March, 2021, 7:48 PM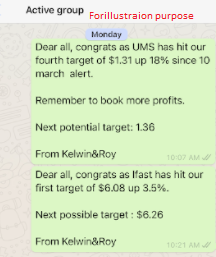 Chart Source:Poemsview 31st March 2021
IFast has been consolidating for the past month and just on 16th March we saw it tried to break the downtrend line which we drew and with some increase in volume too . With that we decided to alert our EXCLUSIVE CLIENTS on IFast's happening. Soon after they released news on the launch of its stock and exchange traded funds brokerage service on FSMOne.com in Malaysia. This helped the stock to move up and achieve our first upside of over 3%
IFast closed well to end the first quarter nicely. Our next possible target from the message above is $6.26 and in the mid term we might see IFast challenge its all time high again.
It has been a good March for us and we hope it has been the same for you. Despite US market especially Nasdaq going through a correction, our Singapore market emerged stronger and proved to the world that our STI still can shine. =) If you're looking for guidance or an extra pair of eyes during market hours, feel free to drop us a message!
Want to be the First to receive our trade alert sent straight to your handphone before the stock moves?
Then be our EXCLUSIVE CLIENT and find out how much value is waiting for you!
See you onboard soon!
Yours
Humbly
Kelwin&Roy