12th September, 2022, 9:44 PM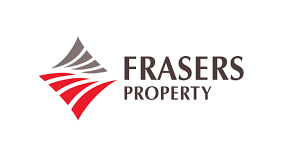 Market has been a buzz with the newly launched Frasers Property Five Year Green Retail Notes.
We've been getting some questions with regards to the Frasers Property green retail notes. So we'll just summarize some key points and give our thoughts. Remember these are just our thoughts and NOT A RECOMMENDATION. 
Frasers Property Limited is a S$4 billion market cap, "mid-sized" Singapore property developer. It has diversified property assets across Singapore, Thailand, Australia and Europe and develop properties across different sectors – retail, commercial, industrial and hospitality.
Image taken from FPL 1HFY22
What's a green bond? A green bond is specifically used to raise money to invest in environmental projects — or green projects. That's what Frasers Property intends to use the money for. It's not the first time Frasers Property has raised money from green bonds. In fact, since 2018, this company has raised over S$8 billion of green loans and bonds.
9 Key Points To Note 
It's a 5 year tenor and so maturity is Sep 2027
Its coupon payment is 4.49% Pa (payable two times a year) Mar 16 and Sep 16 each year
Minimum subscription size is $1,000, with further amounts in multiples of $1,000
Issue size is $420 million with potential upsize to $650M
Public tranche 300million, $120 Million to institution.
Subscriptions under the public offer will be subject to balloting if the total subscriptions exceed the amount available.
Public tranche is open from 9th Sept till 14th Sept (Wednesday) Noon time.
Retail application for the public offer may be made at the ATMs of DBS, POSB, OCBC and UOB. SRS and CPF can't be used.
Fraser just redeemed its 7 year retail bond of 500Million maturing 22May 2022 at 3.65%
Our Thoughts
Although 4.49% looks attractive but an investor has to hold till maturity (5 years) in order to get your full principal back. But lets look a little bit more into Fraser property and see if Fraser has what it takes to repay this debt.
Fraser Property was acquired by Thai Billionaire Charoen Sirviadhanbkakdi's TCC group. It is not backed by Temasek unlike some other companies. So do take note of this if this is one concern.
We'll take a quick look whether Frasers Property has the financial power to service their bonds.
Bonds are different from stocks as they work differently in terms of performance. Bond holders wouldn't be too concern about the share price moving up or down and the only thing that they would be concerned is the ability to pay the debt
Image taken from 3QFy22 business updates
They have 2.7Billion of cash on their balance sheet.
Net Debt to equity ratio is 70.5%. They brought their net debt down from 73.7 to 70.5%
Net interest cover is 3 times which is actually on the low side.
Well positioned to service the debt in the coming years.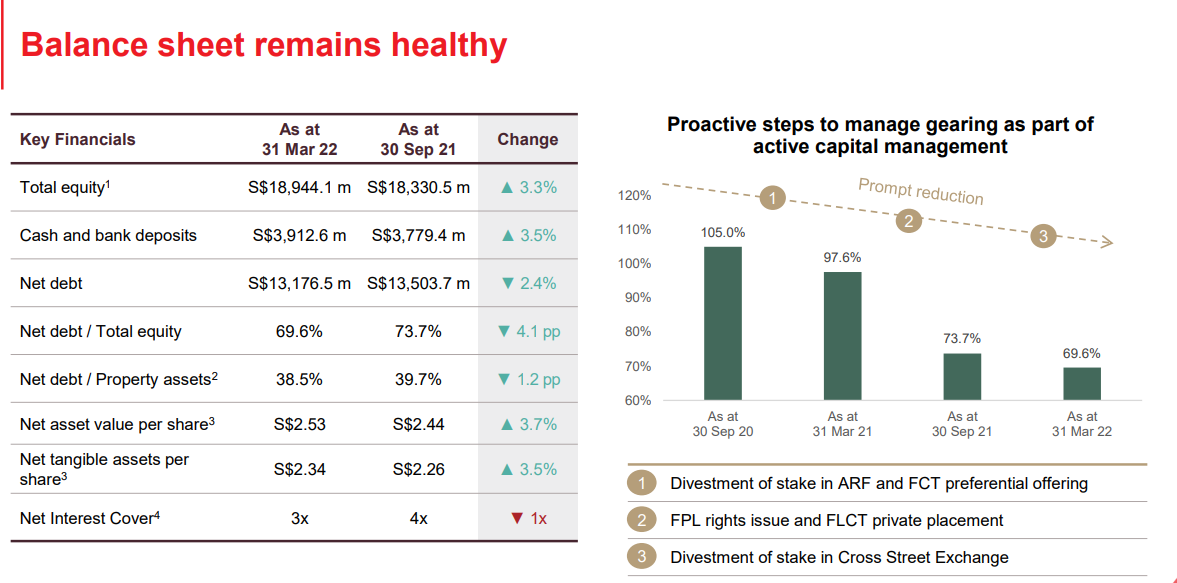 Strong pipeline of projects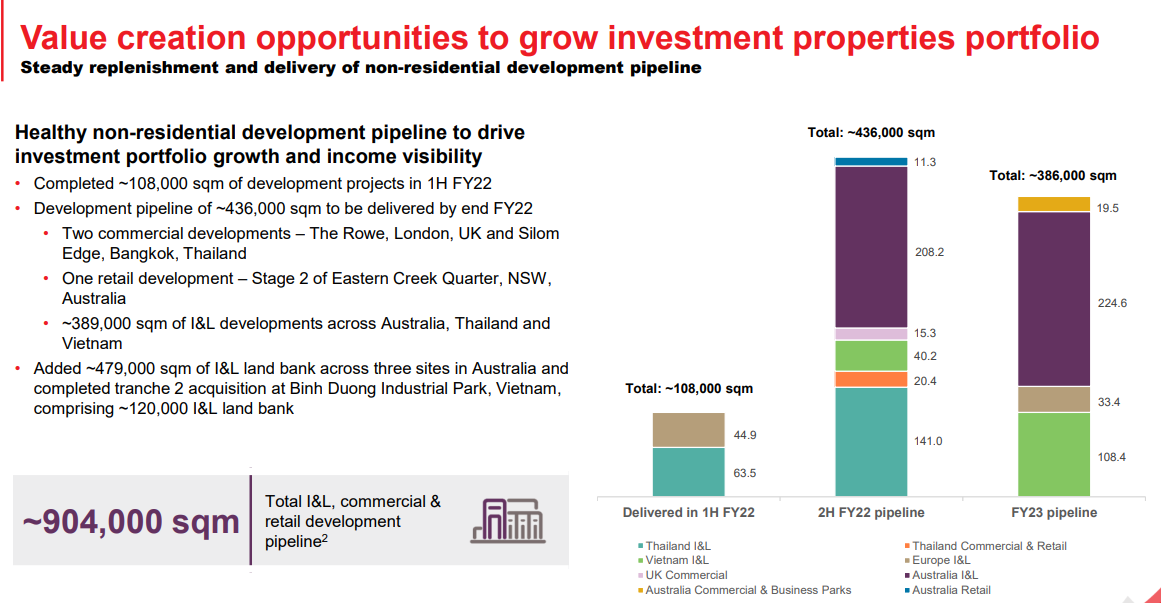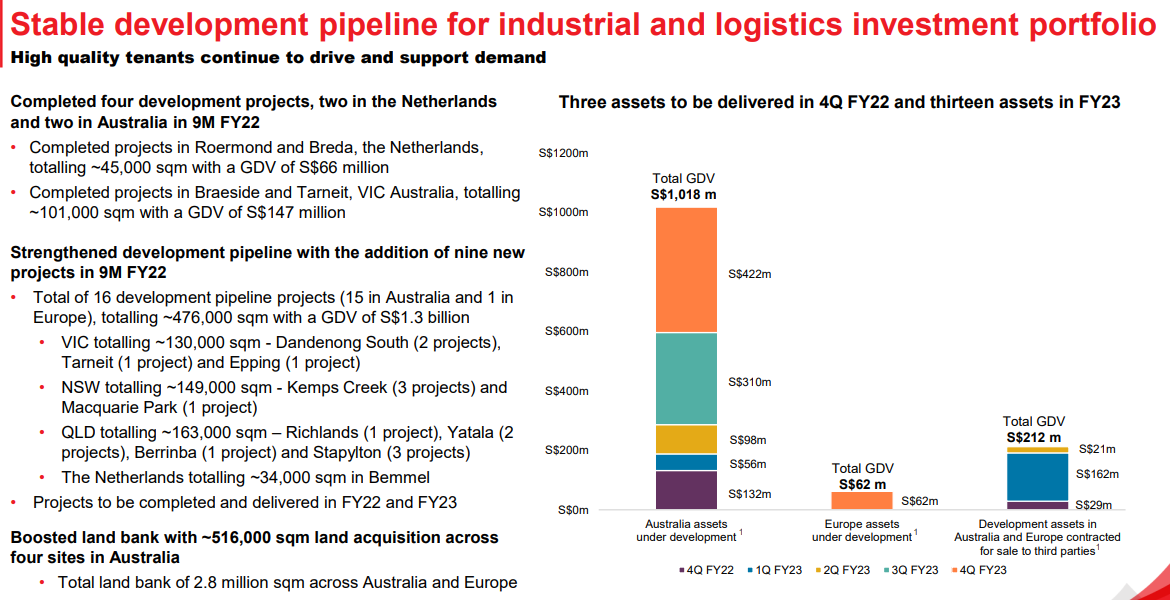 Total of 1.3billion worth of pipeline projects for the next few years.
Concluding Thoughts
The greatest concern would be the default risk and with all investment we cannot say there is zero risk. Our take and view is that default risk is low but as a bond holder, you'll have to hold it till maturity then you're able to get back your full principal repayments. Anything else you'll have to sell it in the open market which could result in a loss. So don't expect any capital gains and know what the purpose of the bond is for.
As an investor, if you're willing to take a longer term view and don't mind a payout of 4.49% Pa then adding Fraser Property green note might be something to consider. The good thing is that the amount is at a smaller range of $1k and there are not many retail bonds that come onto the market with a strong brand name. We wouldn't recommend going to big into this as we can wait for more opportunities as interest rates is still on the rise.
If you compare it to Reits which might give about 5% yield but you do risk a move in the share price. So there's no one solution that fits all and if you're looking to grow your income portfolio then this might be worth looking at.
Once again this is just our thoughts and its meant for educational purpose. If you need any help, feel free to contact us.
From Kelwin & Roy