27th November, 2020, 7:07 AM
ImageSource : Marketwatch.com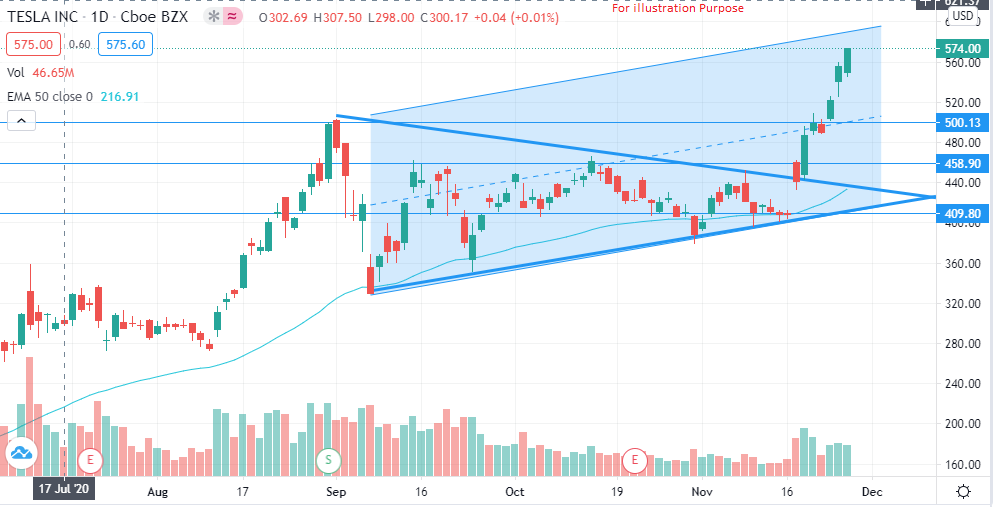 Chart Source: Tradingview.com
By now we should all be familiar with the name Tesla and how it has been making headlines recently with the inclusion in the S&P500. Elon musk is now the 2nd richest man in the world though there have been debates that he's actually 3rd but according to the man "I really couldn't care less," Musk emailed Forbes about his net worth in July. "These numbers rise and fall, but what really matters is making great products that people love." (Quote from forbes)
Just two weeks back Tesla was trading around the $400 levels was when we continued to be bullish on it. Read back here to know more. It broke the $458 resistance level and never looked back gaining almost 30% in just 2 weeks!
Are we still bullish on Tesla? Pretty much and here are some reasons why:
In the long run, stock movements reflect the success or failure of a company's underlying business.
Delivery figures, if tesla continues to be able to increase their delivery of cars, this would continue to propel the business forward
The inclusion into the S&P500 ,current shareholders know that index funds tracking the S&P 500 will need to buy shares of Tesla in substantial quantities on or before Dec. 21.
There is over USD 11.2 trillion in assets benchmarked to the S&P500 and roughly USD 4.6 trillion of this total is in index funds. Out of 4.6 trillion 1%-1.5% would probably go to Tesla which means about $46B – 69B! $$$
Furthermore, Tesla is one of the largest short in the world with about 24billion on it. Short sellers might be squeezed and probably have to cover their position if Tesla continues to go up.
From the charts, we might be seeing Tesla moving towards $600  for this year which is our target after it smashed through  the $500 mark.
Of course, never fall in love with a stock and continue to ensure that the company fundaments doesn't change and its books are in proper order.
Yours
Humbly
Kelwin&Roy