2nd October, 2020, 5:48 PM
TGIF! Thank God its Friday or Trump Got It Finally? Well, the President of United State has done it again! Being tested positive for Covid! What a year it has been eh! Testing positive in such a time especially when elections are so near! And we thought things were crazy already this takes the cake. Ok jokes aside, let's dwell a little more into this.
Messages have been coming in fast and furious and we thought we'll just share some thought of Trump getting covid and some possible impact. Some even speculate that he's faking it to gain sympathy vote??
First, let's look at the line of presidential succession if anything were to happen to trump and he's incapable of fulfilling his duties. The vice president (mike pence) is next in command then follow by the speaker of the house who is Nancy Pelosi which is a democrat. So things will be interesting here if pence also can't perform his duties. After her then its the President pro tempore of the Senate. Market might probably head down if anything really serious happens to trump as a knee jerk effect.
Second, trump is already 74 years old and that's a real concern. As we been told that the covid hits the elderly harder and they are the more vulnerable group. So far it seems mild and being detected early could increase the chance of recovery and hopefully it doesn't deteriorate. With early detection, some drugs like remdseivir has shown effectiveness curing covid and making it less fatal. This weekend is crucial in seeing how trump's health is and that might set the tone for next week. If it's really mild and trump recovers then market might start to have some rebound.
Third, what happens if trump conditions turns and unable to run for elections? Will the elections be postponed? The power doesn't lie with the President and it is an extremely complex scenario that requires congress. You can read more HERE.
Fourth, could trump get some sympathy vote? Doubt so, most of the americans have probably already decided who they want to vote for. In fact people are saying that its due to the lack of mask wearing that's why he got it. So serves him right?
Fifth, it's still early to say what will happen as the white house scramble to put in plans for what's to happen next. Trump could still do virtual rallies if he's well enough just like what Biden has been doing. Trump can still win this election of course given he recovers and not swing the other way.
As for markets, futures plunged over 500 points on news of Trump testing positive and has since recovered off the lows. We feel market might have overreacted for now but of course we got to see how serious his condition is and it cannot be taken lightly. If he gets well then market could resume its course. BUT if he turns the other way, market could really get volatile.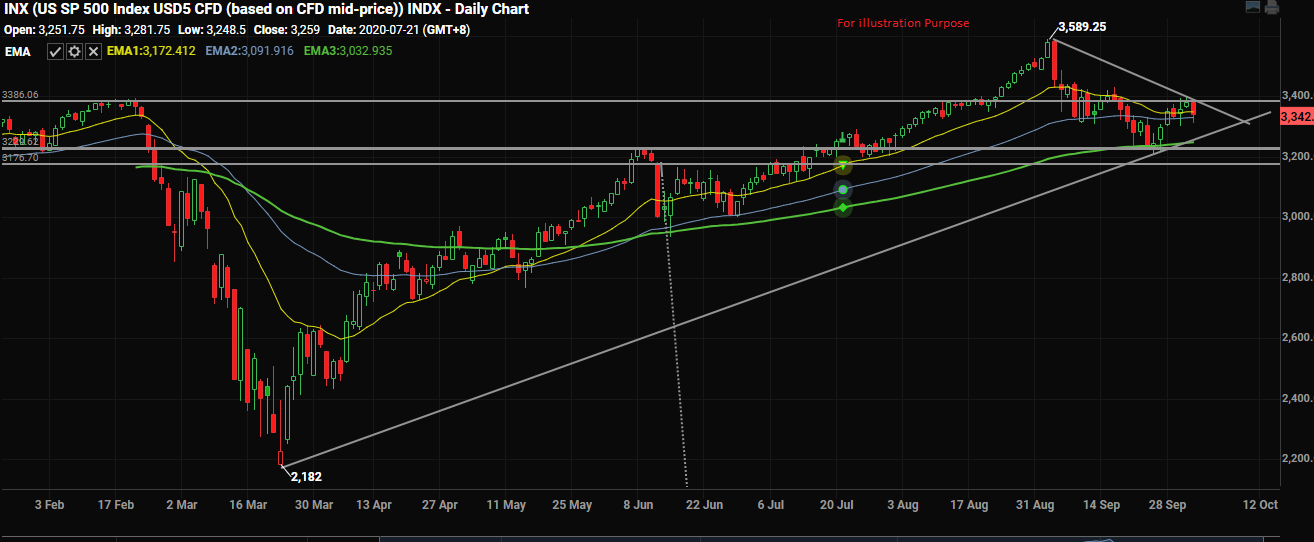 A simple analysis we have come up with. The first line of support would be the 50ema (3325) which its bouncing off currently. Next support is around the 100ema (3222) area which is also the uptrend line and if that can't hold probably around 3176 for the next support. Upside if it can break that downtrend line might be 3481. Short term traders do be alert and nimble. Long term investors might want to look at good support to slowly scale in for strong stocks or wait till more clarity on trump's condition
It's been a wild week and we wish everyone a good  restful weekend before we do battle next week!
Do contact us if you want to have further discussion.
Yours
Humbly
Kelwin&Roy