7th September, 2021, 7:46 PM
Chart Source: AdvisorXs 7th Sept 2021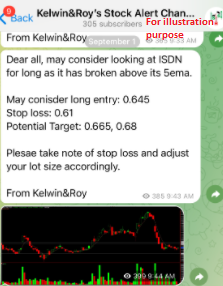 ISDN started its move yesterday with a nice long green bar and closing just slightly below the 20ema. Today it went above it and surpass our second target of $0.68. 
But as it rose all the way up to $0.69 we saw profit taking coming in and closed with a rejection tail. Well is it a bad candle? If u just look at the candle itself then ya it looks ugly. But on a bigger time frame, it is actually above the 20ema and the good thing is that our alert to our EXCLUSIVE CLIENTS was at $0.645 so we do have some margin of safety too!
One of the key in trading is ensure that you have some buffer of safety in case prices go against you in a trade. The current  $0.69 area is also the 50ema which is currently acting as a resistance. Breaking above this we might see our third target of $0.71 being hit!
So if you don't want to be chasing the breakouts and would like to receive trade alerts to your handphone. Simply drop us a message and learn how you can be included in our list.
Yours
Humbly
Kelwin&Roy