18th November, 2019, 6:15 PM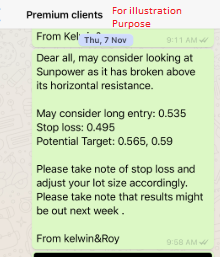 Chart Source: Poemsview 18th Nov 2019
Sunpower had a nice run up of about 10% since our ALERT to our EXCLUSIVE CLIENTS on 7th Nov. Just over a week and Sunpower has hit two of our targets.
It ran partly due to a good set of RESULTS that came out 14 Nov and raun up to 0.59. For now Sunpower is at a resistance and might move to $0.62-0.625 as our final target. It has gone up quite a bit so we'll be looking to take some profit already. The 5ema is acting as a support for us.
Want to be part of this EXCLUSIVE GROUP that were alerted of such a trade analysis?
Wait no more! CONTACT US NOW to see how you can be part of this group to receive value added service sent straight to your handphone.
Yours
Humbly
Kelwin&Roy