24th January, 2019, 3:10 PM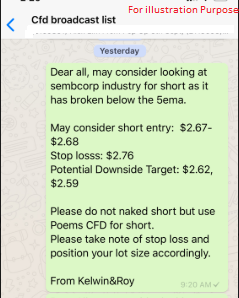 Chart Source: Poemsview 24th Jan 2019
Sembcorp Industries currently one of the top losers in the STI component had some retracement after moving up since December.
In fact, looking back we're glad we managed to catch that upside.
And for now as Sembcorp Industries hit some resistance it started to retrace and has now hit our first downside target of $2.62.
Our EXCLUSIVE CLIENTS were informed of this trade analysis for them to Plan, Prepare and Proceed.  Sembcorp Industries currently is at our short term uptrend line support, breaking it might see more downside.
What would your trade plan be?
Are you prepared for the eventual outcome?
Want to be part of this EXCLUSIVE COMMUNITY  to help guide and prepare for market.
Don't wait and CLICK HERE to see how you can join this community and all the exciting perks of being a Client of Kelwin&Roy
Yours
Humbly
Kelwin&Roy