7th July, 2021, 5:13 PM
Chart Source: Poemsview 7th July 2021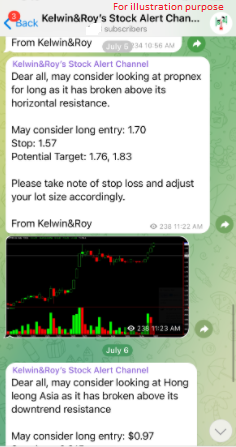 Most of us should be familiar with this name PropNex, being Singapore's largest homegrown real estate agency. And we would be no stranger to hearing or seeing its CEO Mohamed Ismail giving several interviews on radio or tv. As Singapore property market has been on an uptrend, one of the beneficiaries would be the real estate companies. Hence when Propnex broke out of its consolidation on Monday,  we alerted our EXCLUSIVE CLIENT on this breakout at $1.69! 🤑🤑
We have seen PropNex risen 10% 🚀🚀over the last two days since our entry and from the chart we can see its hitting some resistance. Our long term target could even be $2-2.03 towards that upper band of the uptrend resistance.
It is currently at an all time high so do expect some profit taking to come in soon. Part of this run could be due MAS mentioning that the property market is not "overheated" Quoting : "No, we do not think the market is overheated right now, because if it is overheated, then we have not done our job well," MAS managing director Ravi Menon said in response to a question at a press conference on the MAS Annual Report yesterday.
Want to be alerted earlier and not miss out on our next trade alert? Be our EXCLUSIVE CLIENT  and find out how you can be included in our next alert. Or simply click the whatsapp logo at the bottom of the page to drop us a message.
Yours
Humbly
Kelwin&Roy