17th June, 2019, 9:56 PM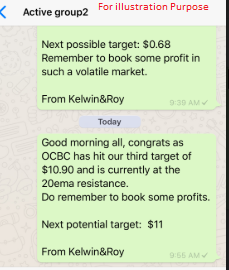 Chart Source: Poemsview 17th June 2019
OCBC together with UOB made an upwards movement this morning and closed positively while DBS didn't manage a good closing.
OCBC has hit our third target of $10.90 as previously blogged and an alert was sent to our EXCLUSIVE CLIENTS to inform them that a significant resistance was hit. Of course final decision lies on the individual as we try our best to provide as much information as possible.
OCBC currently is facing some resistance and some consolidation around here might be a good thing and a break above $10.90 might signal more upside.
In such a volatile market we feel that booking profit fast might be one of the solutions to escape whipsaws. Don't be too greedy at this  point , be nimble in order to survive the ride.
We'll be conducting a workshop next Wednesday ( 19th June) at 7:30pm where we'll go through things we learnt from the recent trade wars and how to better prepare ourselves for what is to come.
Sign up HERE if you don't want to miss out on this great opportunity to learn and prepare yourself for the volatile market.
Yours
Humbly
Kelwin&Roy