12th October, 2021, 5:25 PM
Image source: 12th Oct 2021
Another spectacular run for IFast despite the markets being in the red. One of the rare few bigger cap counters that is in the green today. Part of the reason might be that it reported that under its advisory arm, the AUA has crossed over $1B, which is an increase of around 62% Y-O-Y, very impressive. That has probably gave a boost in the share price plus the chart which we mentioned just two days back also helped in the continual movement.
Now as traders and investors piled up on it and as we get more questions whether can enter or not? Well, we're going to be honest and say that its not an easy question to answer as ALERT was sent out last Friday when price was just trading at $9.27. The risk has increased as the risk reward ratio is much lower now. Only if you're a disciplined trader than finding an entry point might make sense. Staying above $9.72 might see IFast move higher as there looks to be more room on the upside in the coming weeks.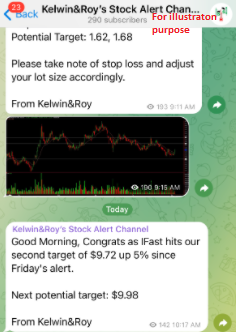 IFast has been an uptrend stock and probably one of the best uptrend stock for the SG market this year and is one of the stock that we alerted our client numerous times through out the year.  Did you miss this stock?
Don't want to miss out on another trade alert? Want to know what stock we're looking at next?
Then JOIN our growing community and see how you can receive such trade alert sent to your phone.
Yours
Humbly
Kelwin&Roy