11th March, 2021, 9:45 PM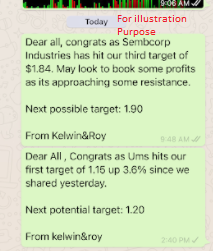 Chart source: Poemsview 11th March 2021
UMS saw a nice rebound today hitting our first target of $1.15. A bullish closing today at the day high might signal more upside to come. Potential gap resistance at $1.18 first and then our next target of $1.20. Electronic stocks have been oversold despite posting results in line with analyst. So a rebound to cover the gap to around $1.24 might be reasonable. Keeping our fingers crossed.
Will update more on AEM as it has rebounded too from our previous post
Want to cut through the noise and get such trade alerts straight to your handphone?
Then be our EXCLUSIVE CLIENT and find out how much value is waiting for you!
See you onboard soon!
Yours
Humbly
Kelwin&Roy