15th October, 2018, 9:56 PM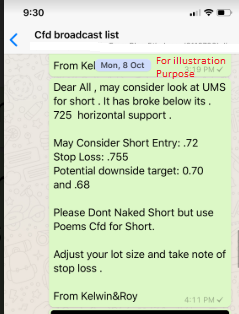 Chart Source: Poemsview 15th Oct 2018
UMS along with other electronic stocks like Hi-p, Venture, valuetronics all saw it tumble down over the last week.
And Just a week ago , our EXCLUSIVE CLIENTS were alerted of UMS when it started to break its support line at $0.725. A nice downwards movement started to happen and with the dow crashing over 800 points it helped us achieve a 10% downside since alert!
A very nice trade for a week if you ask us.
So whats next? As UMS hits our downside target of $0.645 it started to rebound. Will this rebound be sustained?
Some factors that we are considering
As Hi-P flagged out lower profit for Q3 this could signal a lower profit for those in the similar industry together with a dimmer outlook. This could dampen sentiments in the electronic space and UMS might take a further hit.
Currently, UMS is resisted by its 5 days moving average. It closed with a doji today and if it continues to fall then further downside to $0.64 might be seen. But if it manages to clear and remain above the 5MA then we might see some rebound.
Pending any upgrades/downgrades from banks/brokering houses. Any negative or positive reports might be a catalyst for UMS too.
So these are some of the factors we're considering before making any moves.
Not getting such value added services?
Want to be part of this EXCLUSIVE COMMUNITY?
Don't wait and CLICK HERE to see how you can join this community and all the exciting perks of being a Client of Kelwin&Roy
Yours
Humbly
Kelwin&Roy