2nd August, 2021, 9:27 PM
Chart source: AdvisorXs 2nd Aug 2021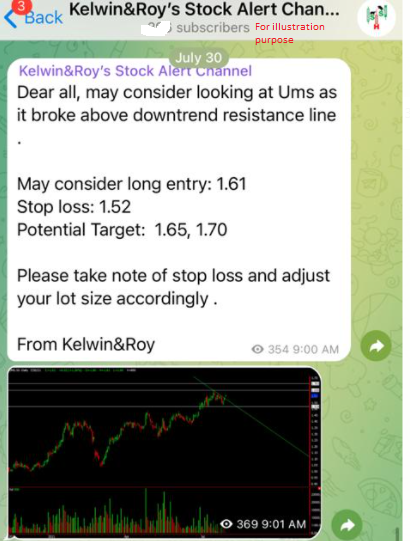 UMS continued its uptrend today and made an all time high before closing at its previous high of $1.65. The volume today wasn't was much as we would have expected it to be, a healthier scenario would be for volume to more than friday's. But we can't get everything right? At least it has hit our first target of $1.65.  🤑🤑 As $1.65 is our resistance, UMS has just nice closed at that price but we might still see more upside in the coming days and might march up to $1.70. After that $1.75 area might be on the cards.
UMS has been good to us for this year ever since our first spot back in march when UMS was just trading at $1.11. If you were an investor and held your trade through then big congrats to you!
If you would like to know how to receive such trade alerts sent to your handphone, just drop us a message and we'll walk you through it
Want to be alerted earlier before the breakout?
Want to know what stock we're looking at next?
Be our EXCLUSIVE CLIENT and be alerted earlier to not miss out!
Yours
Humbly
Kelwin&Roy