5th January, 2021, 7:00 AM
Chart Source: Poemsview 5th Jan 2021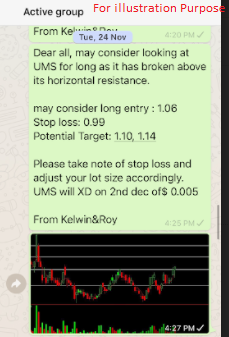 UMS a stock that we alerted our EXCLUSIVE CLIENTS back in Nov came into motion and even hit both targets in a day!
Electronics stocks like AEM, frencken all saw some movement yesterday with UMS having the biggest gain in terms of percentage. Looking at the chart, it broke out of its $1.09 horizontal resistance and power through to close at the day high of $1.15. The volume that came in yesterday is one of the biggest for the last three months something that we should take note of. With such an increase in volume we might see the uptrend resume moving towards the previous high of $1.19 and maybe even $1.25.  UMS has also been consolidating for the last 4 months so we're hoping for more upside for this counter.
Want to cut through the noise and get such trade alerts straight to your handphone?
Then be our EXCLUSIVE CLIENT and find out how much value is waiting for you!
See you onboard soon!
Yours
Humbly
Kelwin&Roy