12th January, 2017, 9:56 PM
Market Outlook for New Year 2017  – Oil and Oil stocks
The Market for Year 2016 was a pretty volatile year with lots of bullish surprises, January 2016 many markets started badly with US oil dived into 13- year lows of $26.15 before rallied more than double to $53 at 2016 close, helped by the November Opec agreements to cut oil output since 2008, which also caused many oil and gas related stocks to rally from their lows in 2016.
As 2016 progressed, the 2 potentially black swans events (Brexit and Usa Elections) turn into "white" swans effect instead, with the unexpected Brexit rally and the "Trump rally " powering the Dow jones to new highs after Donald Trump unexpectedly got elected .
Will Oil & Oil Stocks rebound continue in 2017?
This will largely depend on 2 main factors; First is Opec members and its allies (e.g  the Russians) need to adhere to the oil supply cut agreement they had in November.  Saudi, the Opec leader seems to be leading by example in implementing the oil production cuts.
Click on the news article by marketwatch dated 5 January 2017 for more details.
Secondly is how the return of the USA shale oil players, given the oil rise for past few months will impact the supply of oil in the market.  If oil can maintain a price range of between $40-$60, this could provide support for the oil stocks.
With that, let's look at 2 big oil stocks for New Year 2017: Keppel Corp and Sembcorp Marine
Keppel Corp
Keppel Corp rallied about 25% from its Jan 2016 low $4.64 to its 2016 closing price of $5.79.  The Stock is now above its mid-term 50 day moving average and long term 200 day moving average, which may suggest the stock may be on a uptrend having rally from the bottom formed last year.
It is currently slightly below its horizontal resistance of $6.15, with $6.31 as the next strong resistance, which the stock needs to break above to have further upside in the mid-term.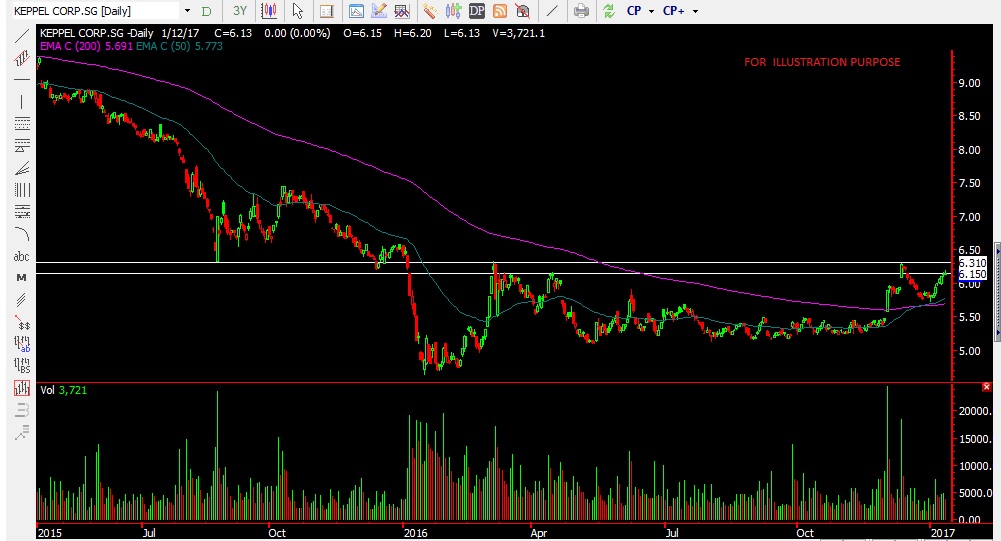 Semb Corp Marine
Sembcorp Marine rallied about 13.5% from Its September 2016 low of $1.215 to its 2016 closing price of $1.38. The Stock is above its mid-term 50 day moving average and is now at its long term 200 day moving average of $1.51 which is also its horizontal resistance.
If it can break and maintain above this $1.51 level, this may signal more upside for the stock in the midterm.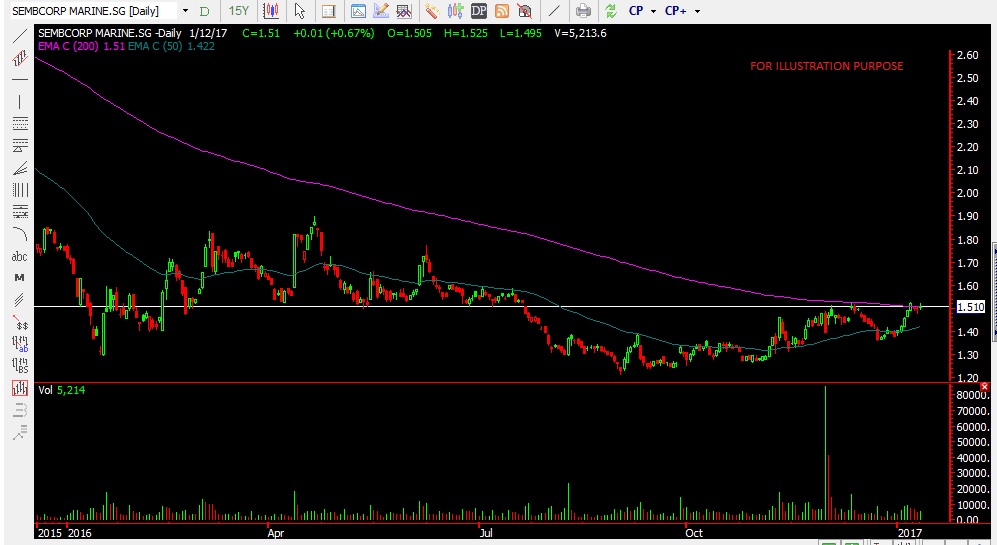 Ok folks that's all on Market Outlook for New Year 2017 for now.
If you have any questions on other stocks/ sectors and would like to seek our views, feel free to click "Contact Us" in the blog and we will try to revert back to you as soon as we can.
If you like to receive timely trading ideas via your hand phone from us , simply open a poems trading account with us by filling in the  "Contact Us" section in the blog to contact us for more details .
Yours
Humbly
Kelwin & Roy .