26th October, 2018, 9:53 AM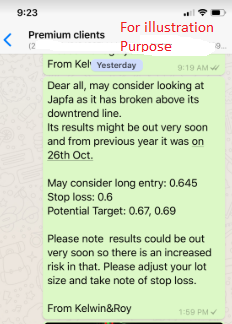 Chart Source: Poemsview 26th Oct 2018
Japfa started moving yesterday when it broke out of the downtrend line which we drawn.
Our EXCLUSIVE CLIENTS were notified of this breakout and we're glad Japfa continued to moved up today reaching our second target of $0.69. That's a 7% upside since our entry which is good to us  considering that it was hit in a day.
What are some things to note for Japfa?
Its results! Its results might be coming out soon so that's a factor to consider.
It has ran ahead of its earnings. So if earnings disappoint Japfa might fall back.
Since it has ran ahead of earnings, it's earnings has better be up or future guidance has to be good or else the market might punish it.
What are you looking for?
Still not part of a community that helps look out for each other?
Want to be part of this EXCLUSIVE COMMUNITY to receive such trade analysis sent to your handphone?
Don't wait and CLICK HERE to see how you can join this community and all the exciting perks of being a Client of Kelwin&Roy
Yours
Humbly
Kelwin&Roy