3rd October, 2018, 9:07 PM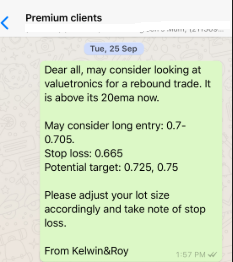 Chart Source: Poemsview 3rd Oct 2018
Valuetronics had a nice run up to our first target of $0.725 just yesterday after which we saw some profit taking coming in.
Our EXCLUSIVE CLIENTS were alerted at $0.70 for them to Plan, Prepare and Proceed.
Valuetronics has rebound off the 20ema today which is a good sign to us. As from the chart, it has also bounced off the downtrend line which adds to another positive sign for us. Other electronic stocks also saw strong closing towards the end so let's hope that this momentum continues on.
Where might be the next target for Valuetronics? We're looking at $0.75 the horizontal resistance.
Need an extra pair of eyes to help guide and plan your trades?
Want such real time trade analysis sent straight to your handphone?
Wait no more and ACT NOW to find out how to join our community.
Be Kelwin & Roy's client to enjoy such value added services to get an edge in the markets.
See you onboard!
Yours
Humbly
Kelwin&Roy