8th February, 2017, 7:35 PM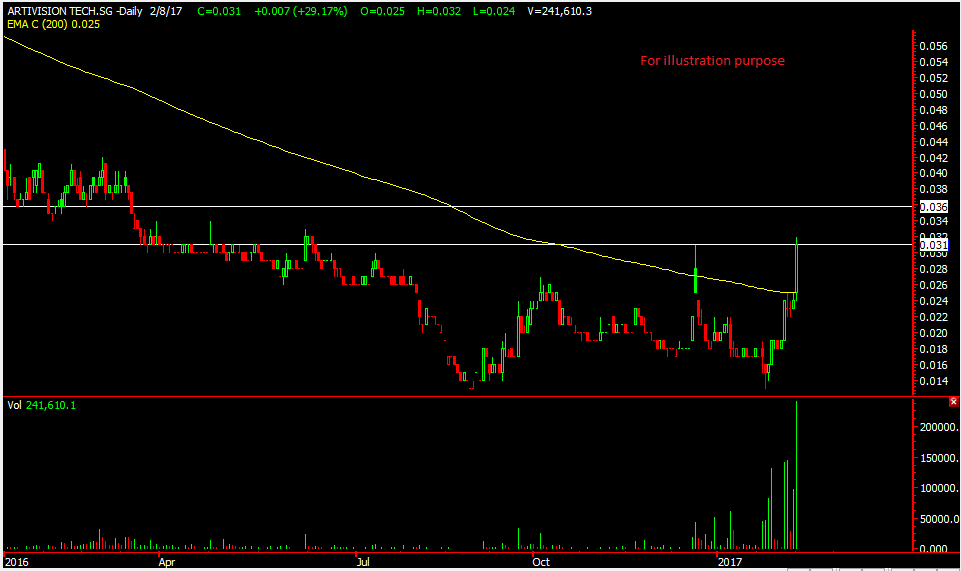 Artivision Tech had a wonderful run this afternoon. The resistance was at 0.024-0.025 while we were blogging about it in the morning. Why did we use that instead of the 200 days simple moving average? Drop us an email and we'll be glad to explain.
Artivision Tech rushed up 25% in just a day from where we spotted it this morning up to a day high of 0.032  but of course we would like to caution our readers not to hope for such returns everyday..Slow and steady wins the race. =) Market has many micro pennies running so don't jump in without a proper plan if not one might end up getting hurt instead.
So what now for artivision? Huge volume is in this stock now and if Artivision Tech manages to stay above 0.03 we might see 0.036 ( the horizontal resistance ) in the coming days . The catalyst could be the upcoming EGM on friday
So if you didn't manage to enter and are asking how now? Where would be a good point to enter? Drop us a mail. We'll explain it to you.
Yours
Humbly
Kelwin& Roy