20th June, 2019, 8:22 PM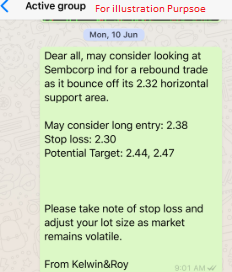 Chart Source: Poemsview 20th June 2019
Sembcorp Industries had a rebound of close to 5% since our alert to our EXCLUSIVE CLIENTS at $2.38.
Just a look back on this analysis where we found the risk reward to be pretty good. The horizontal support was at $2.32 where a little base was forming and it started to rebound. In addition, it also managed to break above its 5ema which we taught just last night during our workshop.
To boost the positive sentiment Sembcorp Industries was awarded the contract to install 15,000 rooftop solar panels. There were positive signs that helped in the recent rebound and we're glad that our clients could prepare, plan and proceed.
Sembcorp Industries is currently being resisted at our second target of $2.47 and a break above that might see it move higher to $2.52.
Want such Alerts sent straight to your handphone?
CLICK HERE to see how you can learn how to plan a sound and actionable trade plan and to be part of this EXCLUSIVE COMMUNITY to enjoy such value added services.
Yours
Humbly
Kelwin&Roy