12th March, 2017, 12:00 AM
Property Cooling Measures Tweaked – What Shall We Do Next?
On Friday just before noon, Singapore government announced some targeted tweaks to the property market cooling measures.
These are some of the main ones:
A reduction of existing  Seller's Stamp Duty (SSD) rates for residential properties
Changes will see the SSD holding period cut from four years to three years
SSD rates will also be lowered by four percentage points for each tier
The rates apply to all homes bought on or after March 11
Current framework for the Total Debt Servicing Ratio (TDSR) will be relaxed. The 60% TDSR threshold will no longer apply to mortgage equity withdrawal loans with loan-tovalue ratios of 50% and below.
A new stamp Duty called the Additional Conveyance Duties (ACD) was introduced.
More of the tweaked cooling measures can be read here .
When the news was announced , you can just imagine what happened to our property counters in Singapore.
The FTSE ST Real Estate Holding and Development Index was up 2.5 per cent to 827.74 at 1.50pm.
CapitaLand jumped as much as 6.2 per cent to a high of S$3.79 each before closing at S$3.70, or a 3.6 per cent gain on the day.
City Developments shares soared to a high of S$10.59, or a 10.2 per cent rise, before ending with a 5.6 per cent gain at S$10.15.
Wing Tai was up 8.8 per cent to S$1.96 before closing at $1.935
It was a crazy afternoon instead and if you chased property counters immediately you would have some decent returns . We'll just cover some counters over here and see how it plays out on monday.  News is out and now people are taking time to understand how much impact would this easing really be and could there be more easing coming along? Has the market overreacted on friday?  Did our property counters run before even the news came out?
We'll take a look at a few charts and let you decide.
Capitaland 
Capitaland resistance can be seen at 3.69-3.71 . If that breaks we could see potential upside to 3.90 . The swings could be wild as traders might be taking profit for those who bought earlier. Support or stop loss : 3.66 or 3.52
Wing Tai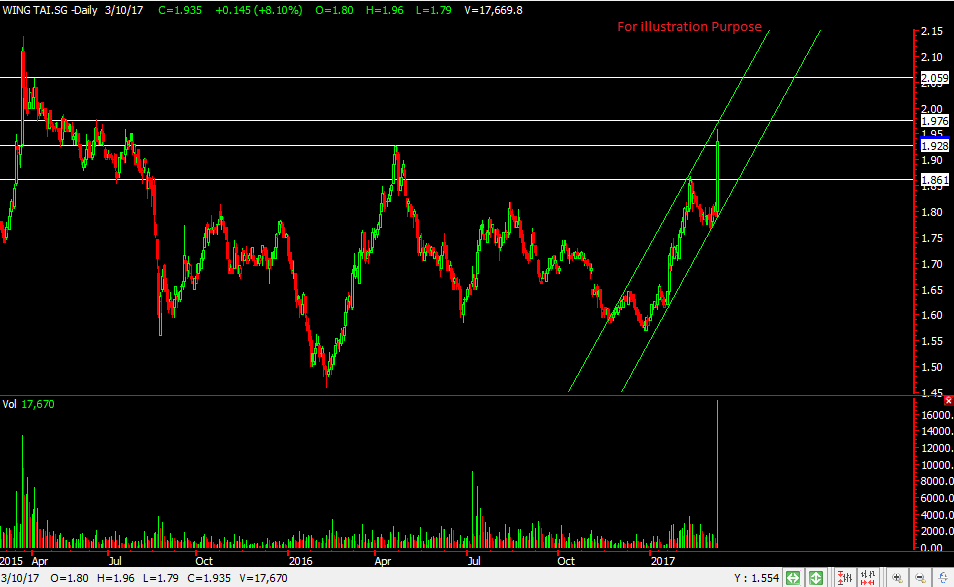 Wing tai surged a lot too and reached resistance too. Resistance at 1.935 then 1.96. If those break we might see $2 or even $2.06. The support would be 1.86 or the resistance turn support of 1.935. Always remember your stop loss.
Chip Eng Seng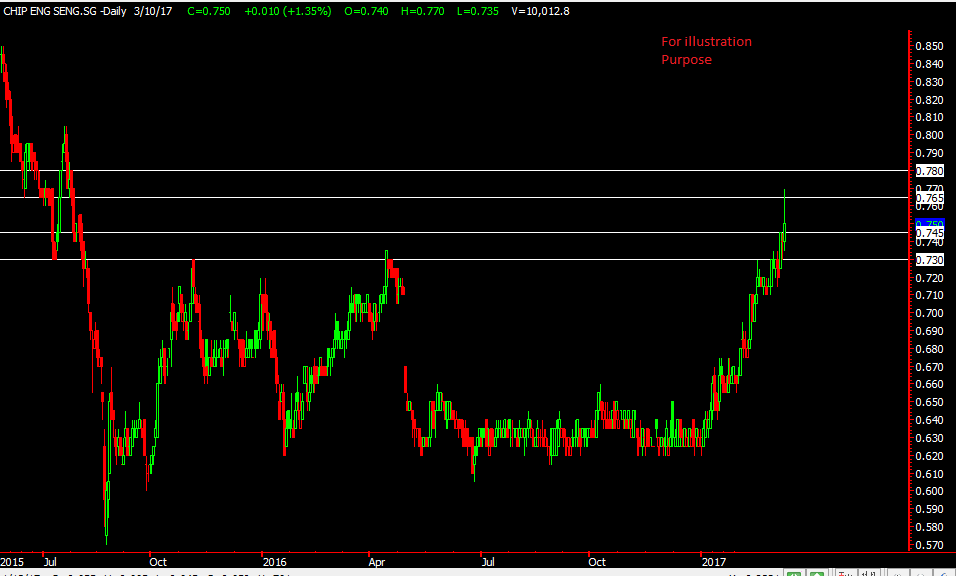 Chip Eng Seng closed above its previous day high of 0.745. If it manage to stay above that next potential target could be 0.765 then 0.78. The support is at 0.73.
Guocoland 
Guocoland at least managed to break above it's mid term downtrend line but couldn't close above it horizontal resistance of 1.90. A close above that might see it move to 1.945 and if momentum continues could see it cover gap to 1.985. Support or stop loss would be 1.865.
Do remember your risk and comfort level in chasing or even shorting on monday. For those who prefer a little less volatility you could wait for the dust to settle before deciding on a direction .
Yours
Humbly
Kelwin&Roy