7th August, 2018, 8:52 PM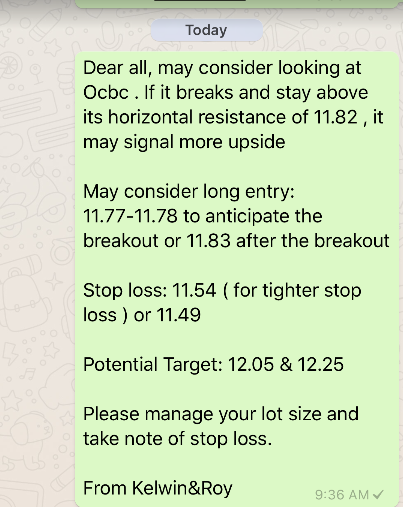 Chart Source : Poemsview 7th Aug 2018
OCBC the top performing stock in the STI component saw an upside of 4% in a day. A really nice rally if you ask us.
We're glad we caught this upside and of course our EXCLUSIVE CLIENTS were alerted on this trade analysis. No hindsight as OCBC reported a good set of results and a few brokerage houses started to upgrade it.
In fact OCBC has a stock that we been catching its movement back in July and being the top performer back in July. 
OCBC broke our resistance of $11.77 in the morning and there was no turning back for this stock. It moved up steadily to hit our first target of $12.05 up 2% in a day. Our next possible target might be $12.25 if it manages to stay above $12.05.
Don't forget we caught Sembcorp Industries too.
Don't want to be left out of such analysis?
Want to be part of our EXCLUSIVE CLIENT and be informed in advance of such trade analysis in order to plan and prepare?
Then be Kelwin & Roy's client to enjoy such value added services.
Don't miss out further!
Yours
Humbly
Kelwin&Roy