13th October, 2020, 5:10 PM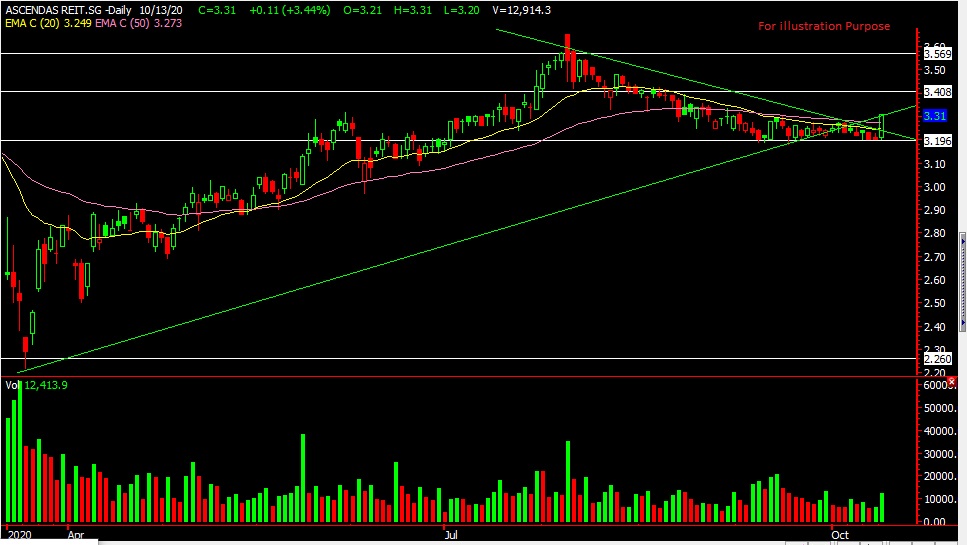 Chart Source: Poemsview 13th Oct 2020
Ascendas Reit is a business space and industrial reit which i'm sure many would have seen their spaces all over Singapore. It is also part of the STI component. The Singapore portfolio includes Business and Science parks, High specs industrial & Data Centres. In 2019  ,Ascendas REIT acquired 28 business park properties in three growing US tech-cities. High-specs industrial and data centres make up 17% of its portfolio; with ICT customers contributing 9%, and data centres contributing 5%, to its monthly gross revenue. Data centres like we mentioned in our previous post of Keppel DC Reit is a hot asset in the market. Though Asecndas Reit is not a direct play its good to have a mix of it.
It's dividend yield is around 4.9% which is decent. So let's look at it from a technical analysis perspective.
It has broken above its 20 and 50ema which is a positive sign. If you look back, these two moving averages as been acting as the resistance and finally today it managed to break above it. Volume came in too as we can see it's higher than the last few days. These are positive signs to us.
We have drawn some of the support and resistance level and we might see $3.40 in the coming weeks.
Keep a close watch!
Yours
Humbly
Kelwin&Roy