13th January, 2020, 6:31 PM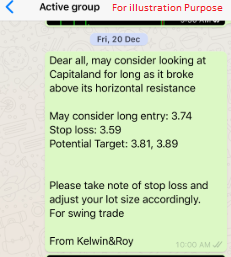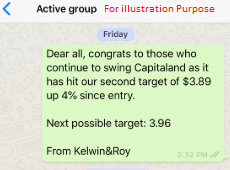 Chart Source: poemsview 13th Jan 2020
Capitaland part of the STI component stock continues it upwards march this morning but succumbed to some profit taking during the day. It was the strongest of the three amongst City Dev and Uol which ended up red.
Capitaland was a stock which we ALERTED our clients near end December when it was trading at $3.74 and under a month it has gone up 4% which is a nice return to us. It was a stock which we thought was worth  a swing trade rather than contra as some stocks need some time to let it perform and true enough Capitaland came through.
As for now as it has risen quite a fair bit , taking some profit might be a good strategy as the  volume coming in might not be able to sustain the upwards movement in the near term. It is one pip away from our target of $3.96 but taking some profit would be a good idea.
Want to be part of this EXCLUSIVE GROUP that were alerted of such a trade analysis?
Wait no more! CONTACT US NOW to see how you can be part of this group to receive value added service sent straight to your handphone.
Yours
Humbly
Kelwin&Roy