10th December, 2020, 12:40 PM
Image Source: Airbnb.com
Airbnb will be listing tonight (10 dec 2020 )on the Nasdaq.Its IPO price came in higher than expected at $68 which they sold 50 million shares on Wednesday.. The price far exceeds the original target range of $44-50 which saw an increase to $56-60 as investors clamor for the stock in the midst of a historic boom in IPOs.
The pricing sets a valuation for Airbnb of about $47 billion based on a fully diluted share count and including proceeds of the offering, which is set to raise about $3.7 billion. Its IPO proceedings will be used to boost cash reserves and maybe even reduce its cost of debt. It'll probably have sufficient liquidity to last for the next 3-4 years.
Airbnb no doubt took a hit and fell from a peak valuation of US$38Billion in 2019 to US18billion this year due to covid-19. Airbnb initially responded to the pandemic by cutting costs like most companies would. It cut 25% of its workforce, reduced marketing expenses, cut 2020 bonuses, and reduced executive salaries for six months. By around may, it reported that customers started to slowly return for local getaways and for working remotely.
In total, Airbnb brought in $2.5 billion in revenue in the first nine months of the year, down from $3.7 billion a year earlier. Its net loss more than doubled during that period to $697 million.Airbnb's revenue bounced back in its most recent quarter, giving it a profit. So, will Airbnb survive this pandemic?
Lets explore Airbnb a little more and see what it does.
What Does Airbnb Do?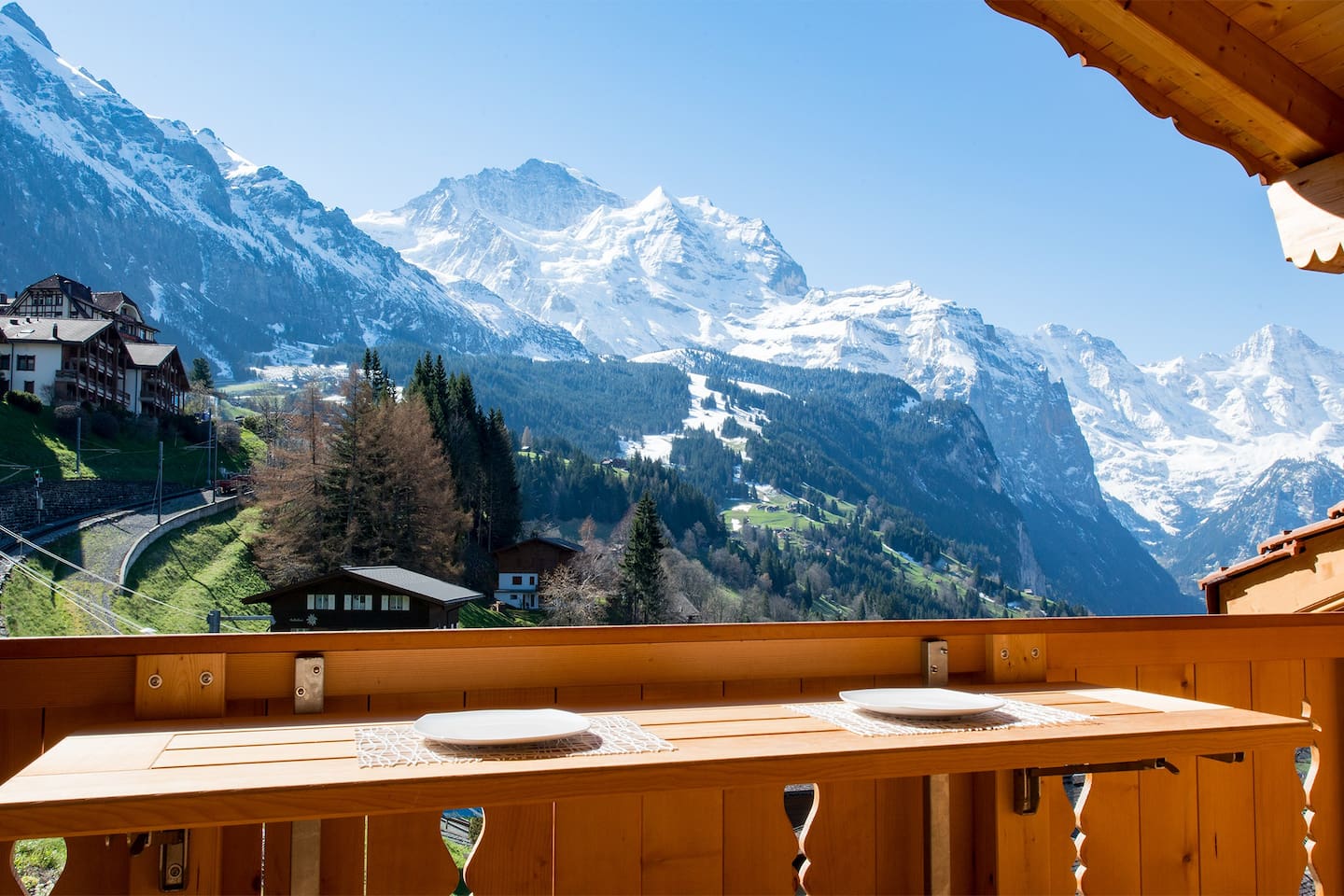 image source :https://www.dreamystays.com/airbnb-lauterbrunnen/
Airbnb is a vacation rental online marketplace. It is often touted as the Amazon of travel and a disruptor in the tourism space. Through its website, users can arrange for unique lodging, short term homestay or even list to rent out their property for others to stay. Airbnb has a global presence in 100,000 cities across more than 220 countries and regions. As of 30 September 2020, 75.7% of its homes and experience listings were active i.e. 5.6mn active listings out of 7.4mn available. So there is a strong barrier to compete with them as any competitor looking to enter have to compete globally which is a hard thing to do.
It's source of revenue  primary source of Airbnb's revenue is service fees from bookings.
What's unique about airbnb is that it actually doesn't own any of the rental properties on its portal. This means its asset-light and does have the flexibility in managing its cost. Airbnb itself has also extended its brand to experiences allowing guests to find things like cooking classes, photography, or a local bike tour on their trips.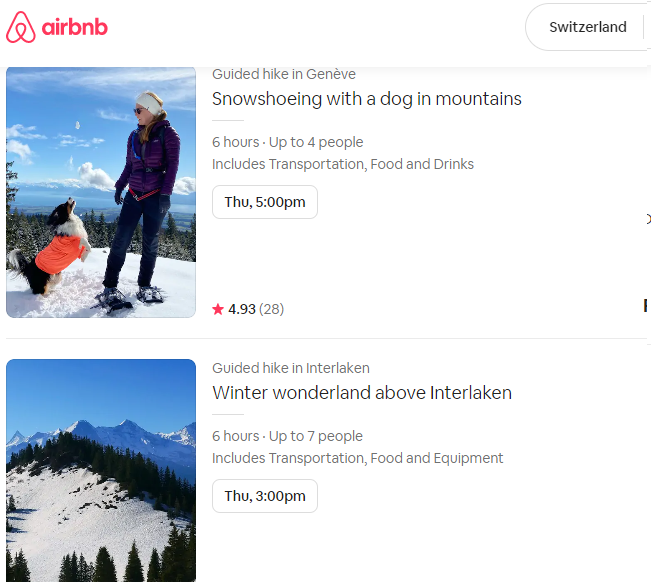 Experiences by airbnb.com
These days, travelers are also looking for a unique experience to complement their travel lifestyle, a more holistic approach to traveling. With Airbnb expanding their offerings, being sensitive to the latest travel trend, it is in a good position to capture the growing travel market.
So Let's look at some risk it might face.
Risk
Of course covid-19 is one of the biggest risk. Infections are still spiking and countries are still imposing lockdowns particularly in Europe which accounts for 40% of its revenue, a decrease in bookings is expected this current quarter.
Tougher regulation, just like in Singapore where short term rentals of less than three months are illegal if countries start imposing such rules, it would affect Airbnb profitability and competitiveness . Already in HK and EU where govt are already trying to curb big tech company's power and monopoly, if this flow to the urban rental market then it would pose a headwind for Airbnb
Competition from other platforms like expedia, tripping.com, booking.com. There are competitors to Airbnb and in order to remain relevant and ahead of them, huge expenses will have to be spent in order to defend and increase market share.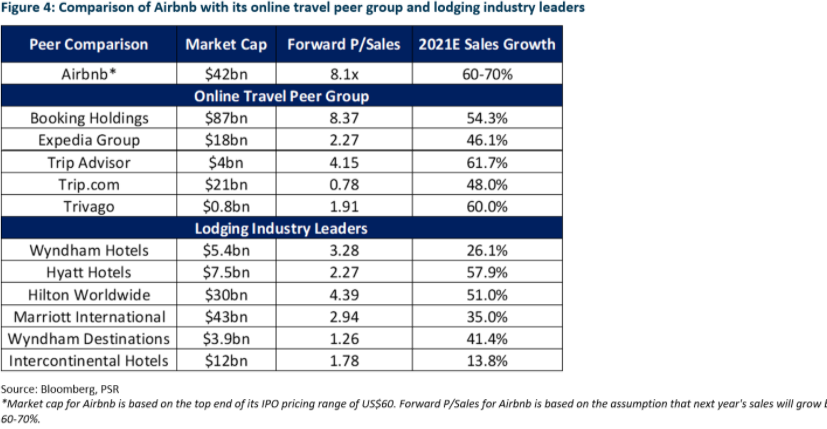 Our Concluding Thought
With the recent vaccine news, this might boost sentiments on travel stocks. With such stock, we often would take a longer term view and not trade the spikes in volatility. Airbnb might be more of a recovery play.
In terms of an economic moat, it doesn't have a really wide one as there are competitors around with such listings although its listing of 7 million rentals is already more than Marriott International, Hilton Worldwide, InterContinental Hotels Group, Wyndham Hotel Group, and Hyatt Hotels combined.
The company is also constantly improving itself by creating a host advisory board, it also rolled out insurance policies at no additional cost when hosts were terrified that their apartments got damaged by partygoers. When COVID-19 continued to rage, it pulled the plug on parties altogether. Such companies put itself in a good position going forward.
The company co-founders Chesky, Nate Blecharczyk and Joe Gebbia – are nice, low-key, friendly people a little different from elon musk. Something positive in a way.
In light of the recent IPOs that were listed like snowflake, palantir  and doordash last night, we have seen these ipo performing very well so don't be too surprised if you see Airbnb rocketing tonight.
To always chase the price is a tough one, even buying a great business but at a lousy price still makes your investment lousy. We would want to see the opening price but would not scale in completely for our investment but maybe nibble a little a bit.
All these talk of travel makes me a little itchy for a staycation now. HAHA
If you have any thoughts on Airbnb feel free to drop us a message.
Yours
Humbly
Kelwin&Roy